Open Call: New Media Fellowship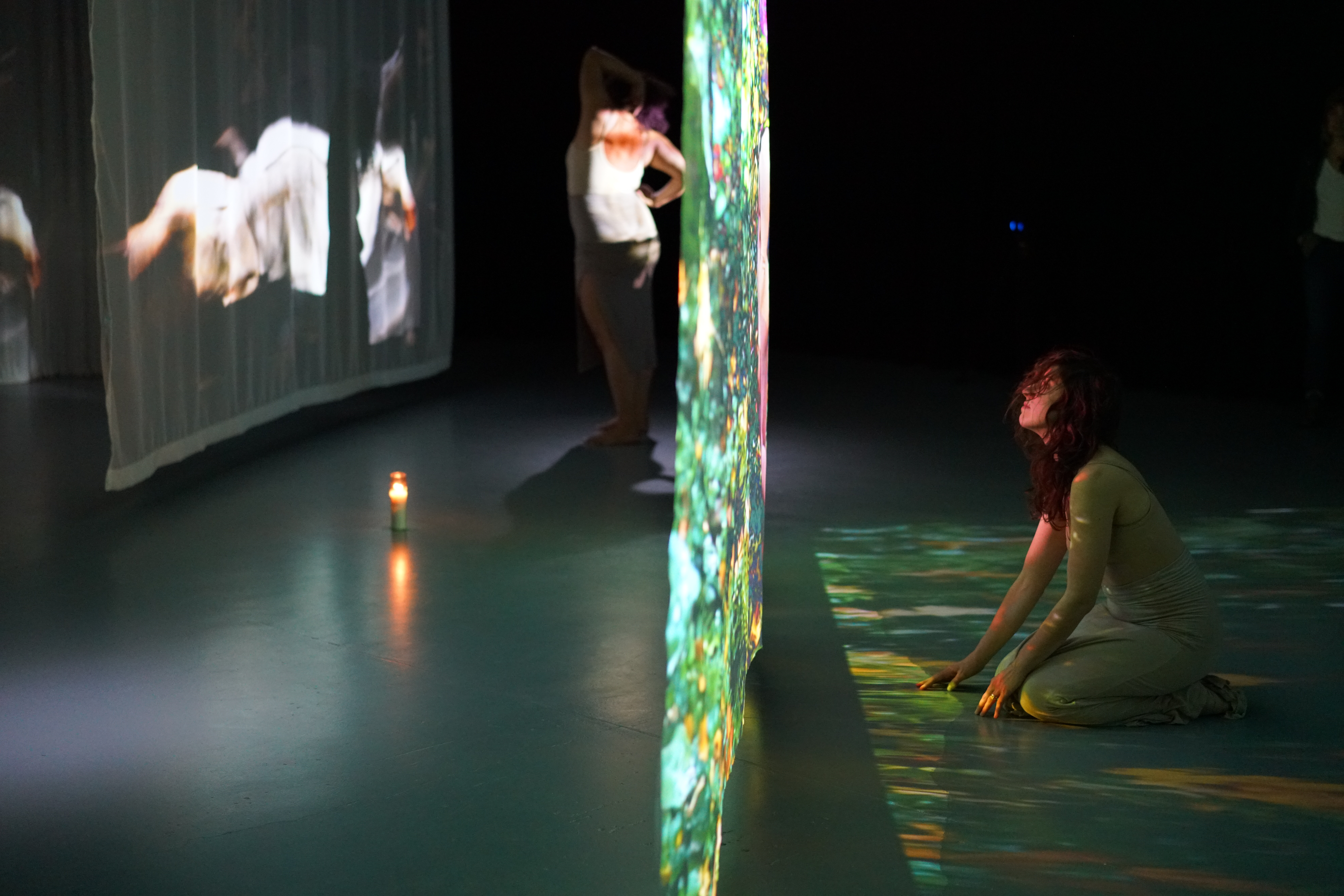 New Media Fellowship
Open Signal's New Media Fellowship will support four Portland-based artists in the deep exploration of the artistic, technical and social implications of immersive technologies such as 360 degree video, virtual reality (VR), augmented reality (AR), mixed reality (MR) and cross reality (XR).
This career-altering and socially impactful residency includes an intensive four-month mentorship with local media arts innovators, as well as full access to the resources at Open Signal, including a large technology library, immersive media lab and production studios, dedicated workspace and staff support. Collectively, the fellows' experimental work will set new rules of engagement for immersive media at Open Signal and beyond.
Exploring the Social Implications of VR
The New Media Fellowship is a rare opportunity for social exploration and deep career development at Open Signal. It will allow four local digital artists to work in residence at Open Signal, experimenting with immersive media tools, to better understand their creative and social potential. Through meaningful interaction with the Open Signal community, the fellows will lay the groundwork and incite conversation around ethical standards for ongoing immersive media work in our public media space.
Project-based Fellowship
This project-based fellowship helps Portland artists create new digital media work. This can extend far beyond video work, and may include immersive digital installation, VR/AR, performance, virtual art, software art, electronic art, and beyond. New Media Fellowship advocates and technical specialists provide feedback to enrich and support artists' work. New Media Fellows projects should be socially or civically minded in their process and product. Chosen artists act as anchors of their own community on-site and actively engage with the Open Signal community during their residencies.
Open Signal does not require Fellows to hold a specific amount of hours on-site, but we encourage artists to spend time at our center to engage with our community. Candidates should be in present in Portland for the entirety of the Fellowship they are applying for.
Program Completion
The fellowship will culminate in a trip to New Mexico in June 2020 to exhibit the fellows' completed work at the Institute of American Indian Arts' one-of-a-kind 360-degree Digital Dome, as part of the CURRENTS Santa Fe International New Media Festival.
Benefits of the Program
$2,000 stipend and $500 material budget
An advocate to critique work and share resources for 10 hours
Private trainings on equipment from Open Signal's new media inventory
Access to the immersive media lab, including HTC Vive virtual reality system, VR-ready PC, 360-degree cameras, Unity game engine, VR and 360 post-production software
Free training through Open Signal's media education program on 3D modeling & animation, experimental and analog video, camera operation, lighting, editing, studio production, and more
One-on-one mentorship with Matt Henderson of Portland Immersive Media Group and 360 Labs, a Portland-based company specializing in 360-degree media
Support from Open Signal's technical and artistic staff
Paid trip to New Mexico to exhibit your work as part of the CURRENTS Santa Fe International New Media Festival
Please note, Open Signal does not provide room and board for New Media Fellows.
Community Engagement
A monthly media literacy group, discussing the social implications of immersive media; conversations will sometimes include local experts from the greater media community
One VR Mixer event, exploring immersive media in person with the Open Signal community
Contributions to a metafesto/blog that will become a living code of conduct for immersive media tools in our space and in the greater community
A 2-month solo exhibition on-site at Open Signal
Selection Criteria
Participation is limited to artists from the Portland metropolitan area with a commitment to immersive media work or heavy experimentation in and substantial experience with digital technologies. We will look for evidence of innovation and vision in their past work. Fellows are placed in cohorts of two, attempting to pair makers who have different perspectives and communities, in order to see how they can mix in exciting ways. We will seek diverse representation among the fellowship cohort.


Top candidates will demonstrate that:
• Access to the fellowship resources will significantly propel their career
• They can complete the project described with the time and resources provided by Open Signal
• They have a commitment to social impact and will thoughtfully engage the Open Signal community during their fellowship
• Work samples and/or previous experience that demonstrates innovation and experimentation with immersive technologies such as 360 degree video, virtual reality (VR), augmented reality (AR), mixed reality (MR) and cross reality (XR)
Please note: This opportunity is not open to Open Signal staff or family members.
Fellowship Dates
Fall Session: September 1, 2019 - December 20, 2019
Spring Term: February 10, 2020 - May 31, 2020
Application Process
The New Media Fellowship application is on submittable.com. Applications are due July 12, 2019 at 11:59pm PST.

A panel of new media and immersive industry professionals from Portland and Santa Fe, New Mexico will select winning proposals. Selected artists will be notified by email by July 24, 2019.
Open Signal is Committed to Equity
We are committed to providing an inclusive and welcoming environment for all members of our staff, clients, volunteers, subcontractors, vendors and other community members. Open Signal does not and shall not discriminate on the basis of race, color, religion (creed), gender, gender expression, age, national origin (ancestry), disability, marital status, sexual orientation, or military status, in any of its activities or operations. These activities include, but are not limited to, hiring and firing of staff, selection of volunteers and vendors, and provision of services.

We do our very best to accommodate individual needs for equitable access to our facilities. We provide accessible electronic materials, sign interpretation, mobility support as needed.
Contact:
Open Signal New Media Fellowship Facilitator, Daniela Serna via email daniela@opensignalpdx.org or phone (503) 288–1515 x931
The 2019-20 New Media Fellowship is supported by the National Endowment for the Arts and the Jackson Foundation.
View Application