Open Signal Labs Black Film Fellowship — 2020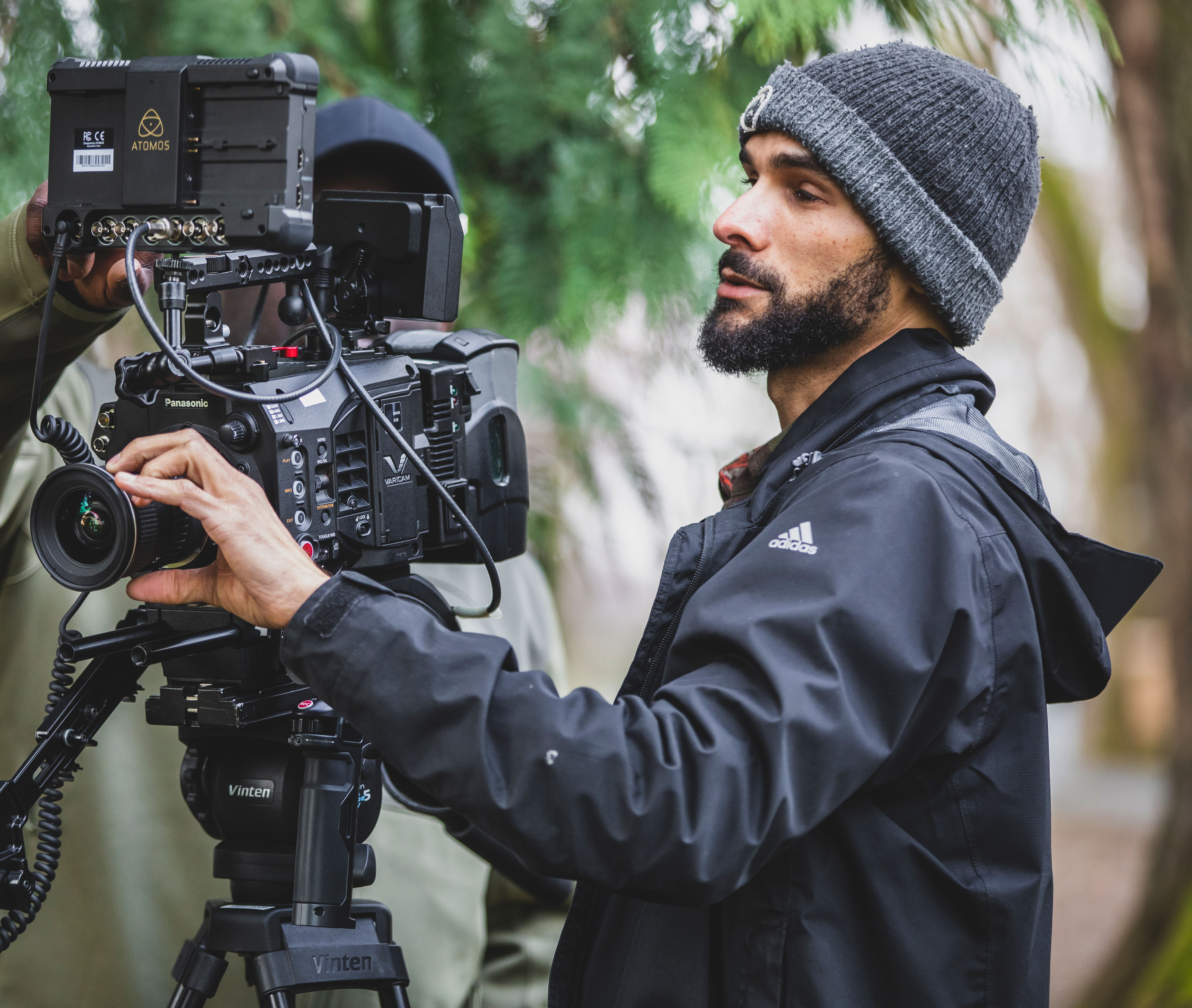 Open Signal Labs' Black Filmmaker Fellowship is a rare opportunity for social exploration and deep career development at Open Signal. It allows six Portland-based Black filmmakers each year to immerse themselves in a creative environment that avoids the biases of extra-cultural critique, while fostering an environment of trust and experimentation.
Open Signal Labs is an incubator for new stories at Open Signal, a media arts center based in Northeast Portland. Labs and its fellowship were created with a clear awareness of emerging opportunities for African-Americans in film and television, and the critical social and political importance of the Black perspective in all areas of storytelling.

Part professional development program and part content development studio, the fellowship was piloted in 2018-19. It is designed to help filmmakers advance their careers and to develop unique and high quality cinematic projects. Over the course of the 10-month program, fellows will create new works independently and as a group, challenging themselves and others to aspire to the highest standards. Collectively, the fellows' work will explore a new creative operating model, which seeks to advance the culture of the industry at large.

The fellowship is comprised of four major components:
Individual Project — Fellows will use Open Signal resources to advance their own individual projects in development.
Group Project Work — Fellows will spend a designated number of hours in primary and secondary production roles on an existing Open Signal documentary project, with specific details shared upon acceptance.
Professional/Career Development — Fellows will strengthen skills and experience with the intent to move into professional industry production.
Exhibition/Distribution — With the support and resources from Open Signal, fellows will plan and execute a screening of their finished work or work in progress, build understanding or further develop relationships and processes associated with long-term creative sustainability and ensuring adequate compensation for creative work. In addition to the screenings, the exhibited works will be broadcast on Open Signal cable channels.
Benefits of the Program
$2,000 unrestricted stipend
Access to Panasonic Varicam 35 and the Panasonic Varicam LT professional cinema cameras, which serve as the primary camera platform at Open Signal Labs
Access to Open Signal's large technology library, editing suites, production studios, sound recording studios, dedicated workspace and staff support
Access to free or reduced cost filmmaking courses
Exclusive lectures and workshops by notable figures from the film and television industry
Dedicated project support in the form of access to specialized mentors, advisors and Open Signal Labs staff
Private film screenings
Opportunities to apply for specialized production grants
Commitment
This fellowship lasts for approximately 10 months, during which time fellows are expected to make a commitment to attending all screenings, workshops and lectures.
Open Signal does not require fellows to hold a specific amount of hours on-site, but we encourage artists to spend time at our center to engage with our community and access specific resources.
Throughout the year, fellows should be prepared to share their works-in-progress within the cohort as well as with one-on-one review sessions with the Executive Producer on at least a quarterly basis. These screenings should represent work at the beginning, middle and end stages. Projects need not be completed by the end of the fellowship.
Each fellow will produce and host a final public screening of their work in a format of their choice. This screening will take place during the course of a 5-day fellowship exhibition series and is intended to support the fellow in familiarizing them with the process of public presentation and exhibition of work.
Candidates should be based in Portland for the entirety of the fellowship.
Please note: Open Signal does not provide room and board for fellows.
Selection Criteria
This fellowship is for artists who have been based in the Portland metropolitan area for one or more years. Each candidate should be able to demonstrate a commitment to Black storytelling, as not only a personal imperative, but also have an understanding of its value to society at large.
Applicants will need to submit a complete application containing all requested materials. This fellowship will require evidence of innovation and vision based on previous work and the strength of the proposed project's demonstrated tenacity and vision. Projects can be works that are in any stage of development or in some stage of production, but should not be considered completed, or picture-locked.
Applicants will be evaluated based on a combination of factors including, but not limited to, their satisfaction of the requirements, relevant personal experience and motivation.
The six fellows will be selected from a pool of 12 finalists based on the combination of those factors, as well as the storytelling potential, feasibility, and organization of their proposed projects. In addition, the fellowship seeks individuals who have a proven interest, passion, and personal investment in film and cinematic expression.
Please note: This opportunity is not open to Open Signal staff.
Top candidates will demonstrate:
Access to the fellowship resources will significantly aid in the advancement of their work and/or career.
Production feasibility progress on their proposed project and be prepared to publicly exhibit a portion of their project, or in its entirety.
A commitment to the craft of filmmaking.
Evidence of a desire to push, bend or break modern conventions.
The project they present is innovative, timely, relevant and compelling in contemporary culture.
Their work samples and/or previous experience demonstrate a high potential for quality and technical ability.
Fellowship Timeline
Program Start: February 2020
Mid-year Review of Works in Progress with Executive Producer: June 2020
Final Exhibition Week: November 2020

Application Process
Applications through submittable.com are due December 20, 2019, at 11:59pm PST.
A panel of media professionals from across the industry will guide the two-tier blind review process that includes two stages. Applicants will first be narrowed down to 12 finalists and those finalists will then be notified. From that pool, six fellows will then be selected to participate in the program. If necessary, additional materials may be requested of the finalists.
The fellowship requires agreeing to a separate contract for participation. After notification of acceptance, a separate document outlining the terms and conditions will be provided to accepted applicants. This agreement will include the details of participation in program evaluation and exhibition of work developed within the fellowship.
Selected artists will be notified by email by January 5, 2020.
For questions, please contact:
Open Signal Labs Fellowship Coordinator, RaShaunda Brooks via email at rashaunda@opensignalpdx.org or by phone at (503) 288–1515.
The 2020 Open Signal Labs Black Filmmaker Fellowship is supported by the Meyer Memorial Trust, Mt. Hood Cable Regulatory Commission & City of Portland, the Oregon Community Foundation and The Collins Foundation.
View Application