Documenting Demonstrations and Events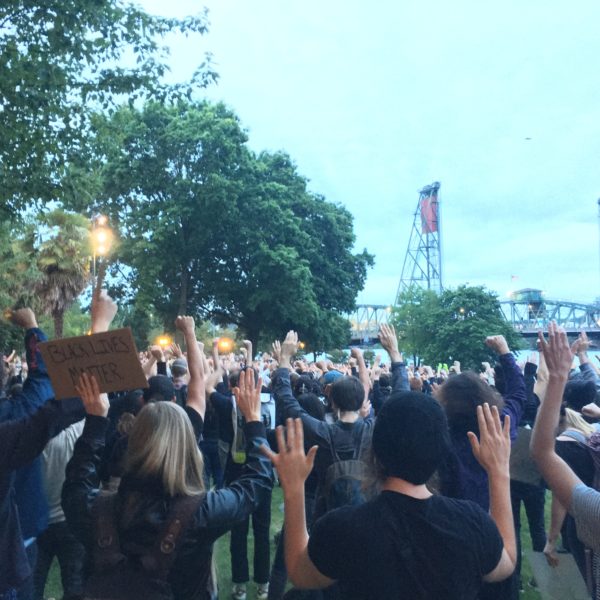 Ages:

16+

Total Hours:

2

(One x 2 hour session)
Open Signal hosts a free class to help Portlanders navigate how to document events and demonstrations in the field, while keeping themselves and their communities as safe as possible and being mindful of the impact of their presence as media.
Current events illustrate the power of independent media. A video, captured on a phone by a 17-year-old in Minneapolis, has become critical in a movement of unified protests around the world, raising the issue of police accountability to acute levels of public awareness.
Join us for an online class where we will go over tips on filming and safety, as well as important information about your rights while filming.
2:30pm-3:00pm: Online technical support
3:00pm-4:00pm: Class
Class technical requirements:
In order to participate in this class, please download Zoom for free prior to the workshop. Check out this link for a video tutorial on how to do so. Instructors will be online from 2:30-3:00pm to assist anyone who needs technical support. If you have any questions, please contact education [at] opensignalpdx.org.
Policies
For More Information
For general information or directions to our space, please contact our front desk at (503) 288-1515 or info [at] opensignalpdx.org.
To be considered for make-up sessions or for other questions about your registration, please contact our Media Education Manager, KatMeow García, via phone at (503) 288 1515 x411 or (503) 994-8863 or via email at katmeow [at] opensignalpdx.org (503) 994-8863
Getting Here
Open Signal is located off the Line 6 or Line 4 bus lines; from NE Knott St, we are one block north of the Nike Factory Store and two blocks east of the Matt Dishman Community Center.
If you are driving to Open Signal, we have a parking lot located on NE Graham St. Our main entrance is also located on NE Graham off of NE Martin Luther King, Jr Blvd. 
Community Membership
Join our community! Open Signal's membership program includes absolutely everyone.
Beginning January 1, 2019, up-to-date membership is required to reserve our equipment and studios. The minimum contribution to become a community member is $1, which gets you free access to our state-of-the-art media equipment and production studios, special events and more. This program will not only strengthen our community and deepen your experience as a community member, but it will also help diversify our funding streams, ensuring that our resources will be around to serve Portland for decades to come.
To sign up, visit our front desk during open hours or make a contribution of at least $5 online.
Scholarships
Scholarships are available to students who demonstrate financial need. For more information visit, please visit the scholarships page on our website.
Open Signal is a Safe Space
Open Signal is committed to providing an inclusive and welcoming environment for the community. Open Signal does not and will not discriminate on the basis of race, color, religion (creed), gender, gender expression, age, national origin (ancestry), ability, marital status, sexual orientation, or military status, in any of its activities or operations, and we ask that you do the same when you attend our workshops and events.
We require all members of our community to agree to our safety policies and to be accountable for the impact of their actions on others who use the space.
If you have a safety concern to report, please talk to any member of our front desk staff, or complete our online form at bit.ly/opensignalsafetyconcern.
Reasonable Accommodation Requests
At Open Signal, we work hard to keep our space accessible, inclusive and collaborative. We have a no-tolerance policy for discrimination, harassment and violence.
To request a reasonable accommodation please complete this form or contact an Open Signal staff member for assistance: info [at] opensignalpdx.org | (503) 288-1515.
 Accommodation requests will be addressed in a timely manner by an Open Signal staff member. While some accommodation needs may not be within our means to meet at this time, we do our absolute best to accommodate individual needs for equitable access to our facilities whenever possible.
Equipment Certification
Open Signal workshops grant access to equipment and software taught in the course after completing all class sessions, unless otherwise noted.
Our workshops and equipment are made available to the community at an affordable rate because we want to amplify your voice on our public access cable channels.
Join our community of media-makers! Open Signal workshops, paired with membership, grants access to check out equipment for free. In exchange for using Open Signal's equipment and studios, we ask that you submit work regularly to air on public cable channels.
Workshops participants must attend ALL workshop sessions order to receive certification. No make-up sessions will be allowed except in cases of emergency. All certified students must complete a brief New Producer Orientation (NPO) before they are given access to our equipment. Students under the age of 18 will need to complete an NPO in the presence of their parent or guardian in order to check out equipment from Open Signal.
Workshop Cancellation Refunds or Transfers
In order to keep our class sizes and costs low for the community, please adhere to the following policies:
Workshop cancellations, refunds or transfer requests must be made three business days (M-F 9am-5pm) before the first workshop start day to receive a full refund or transfer. After three business days, no requests for refunds or transfers will be accepted.
If you miss a workshop session, a one-on-one make-up session can be scheduled upon request for select workshops for $55/hr (scheduling availability permitting). If you miss more than one workshop, you will need to retake the workshop and pay in full.
People with demonstrated need can contact our Media Education Manager for other options at katmeow [at] opensignalpdx.org.
To be considered for make-up sessions or for other questions about your registration, please contact our Media Education Manager, KatMeow García, via phone at (503) 288 1515 x411 or (503) 994-8863 or via email at katmeow [at] opensignalpdx.org.
Obligation to Pay
Non-attendance does not relieve you of your obligation to pay. If you register for a class and do not attend or stop attending and fail to request a refund within the refund period, no refunds or transfers will be offered.
Can't Make it to Class?
Life happens! If you find out less than three business days that you are unable to make it to class, gift your workshop to a member of the community! You may transfer your ticket to another interested student by emailing us at education [at] opensignalpdx.org with their name and email address. If you need help finding someone to take your spot, you are welcome to post about it on our producer forum, Switchboard or free up your spot to someone on the waitlist. Registrations cannot be transferred to another student after the workshop has already started.
Class Cancellation
Occasionally, Open Signal must cancel a class due to low enrollment or emergencies. If your class is cancelled, the class may be rescheduled or you will be offered a full refund. Your refund will be processed in the manner in which you paid. 
Refund Policies for Events
You must cancel up to 72 hours in advance to receive a full refund. There will be no refunds or transfers if you cancel with less than three days notice or fail to show up.
To be considered for a refund or for other questions about the event, please contact our front desk at (503) 288-1515 or info [at] opensignalpdx.org.
Inclement Weather Policy
Open Signal follows the Portland Public Schools weather closure policy. If a workshop, camp or event is closed due to inclement weather, we will attempt to reschedule within the term. Full refunds or exchanges will be offered if you are unable to make the rescheduled date.