intersections & missed connections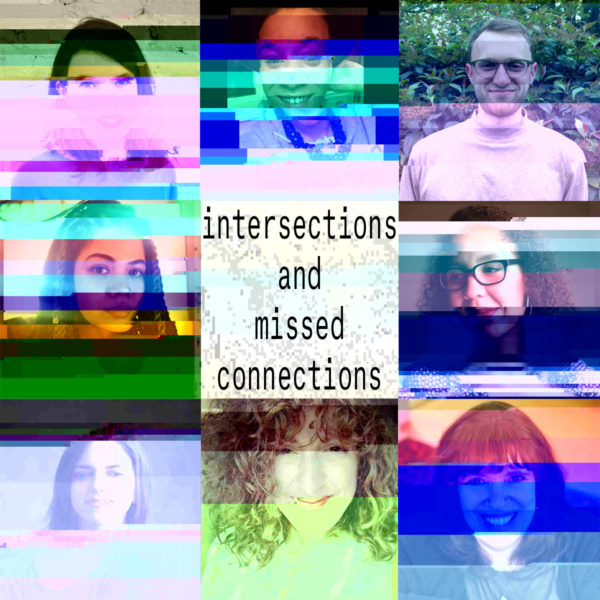 The inaugural year of our Future Forum artist training program comes to an end with a showcase of works in progress.
intersections & missed connections is a survey of works-in-progress from members of the inaugural Future Forum cohort. Future Forum provides an accessible, in-depth learning experience for media makers seeking to experiment radically with art, technology and social engagement. For more information, visit our website.
Featured artists are: Ashlin Aronin, RaShaunda Brooks, Maura Campbell-Balkits, Sam Cohen, Nanda D'Agostino, Jaleesa Johnston, ariella tai and Sophia Wright Emigh.
Learn more about the work, directly from the artists themselves:

In intersections & missed connections, the artists expand into new territories of work, both conceptually and technically, while exploring what arises when things don't go as planned in collaborative relationships formed out of the program.
ariella tai, Nanda D'Agostino and Ashlin Aronin, beyond appetite
what are you hungry for? this installation includes dissections of consumption and fantasies of biting back.
Maura Campbell-Balkits and Sam Cohen, Sugarcoat
Sorry I forgot, sorry I didn't mean to, excuse me sorry, whoops sorry, sorry don't leave, sorry it's my fault. In sugarcoat, we look to humorously explore the connection between female identified insecurities and stage fright. As women, we have been socialized to apologize for everything to the point of existence. With stacked television sets and fragmented video segments, we examine female identified women seeing themselves through the eyes of men and performing within those parameters of patriarchal modes of acting, thinking, and feeling and its oppressive effects in the wake of #metoo.
Jaleesa Johnston, A Place to Move
A Place to Move uses the ephemeral materiality of video projection to meditate on the black body as a queer entity that inhabits a liminal space in between death and life. This fractured body finds movement and freedom within and through the confines of architecture and structure, echoing itself into existence.
Sophia Wright Emigh, Water Mother
Water Mother is a 3-channel, immersive film installation that explores the generative / annihilative continuum of motherhood. Through hyper-processed and dreamlike footage of three women facing the tectonic, elemental experience of motherhood from distinct yet interwoven perspectives (considering / immersed in / looking back on matrescence -- the process of becoming a mother), this piece both embraces and disturbs the viewer depending on the nature of their relationship to a presence larger than themselves.
RaShaunda Brooks, Self Care
Music Video from Brown Calculus, co-directed by RaShaunda Brooks and Kamryn Fall.
Dates
Thursday, Jun 7 7:00pm – Sunday, Jul 29 7:00pm
Location
Open Signal, Portland Community Media Center
2766 NE Martin Luther King Jr Blvd
Portland, OR 97212
Get Directions
Policies
For More Information
For general information or directions to our space, please contact our front desk at (503) 288-1515 or info [at] opensignalpdx.org.
Getting Here
Open Signal is located off the #6 or #4 bus line. If you are driving to Open Signal, we have a parking lot located on NE Graham. Our main entrance is located on NE Graham off of NE MLK.
Refund Policies for Events
You must cancel up to 72 hours in advance to receive a full refund. There will be no refunds or transfers if you cancel with less than three days notice or fail to show up.
Open Signal is a Safe Space
Open Signal is committed to providing an inclusive and welcoming environment for the community. Open Signal does not and will not discriminate on the basis of race, color, religion (creed), gender, gender expression, age, national origin (ancestry), disability, marital status, sexual orientation, or military status, in any of its activities or operations, and we ask that you do the same when you attend our workshops and events.
Open Signal is fully wheelchair-accessible. Reasonable accommodations may be made upon request.