We're in the Give!Guide — Join Our Efforts to Create the Future of Media!
November 01, 2022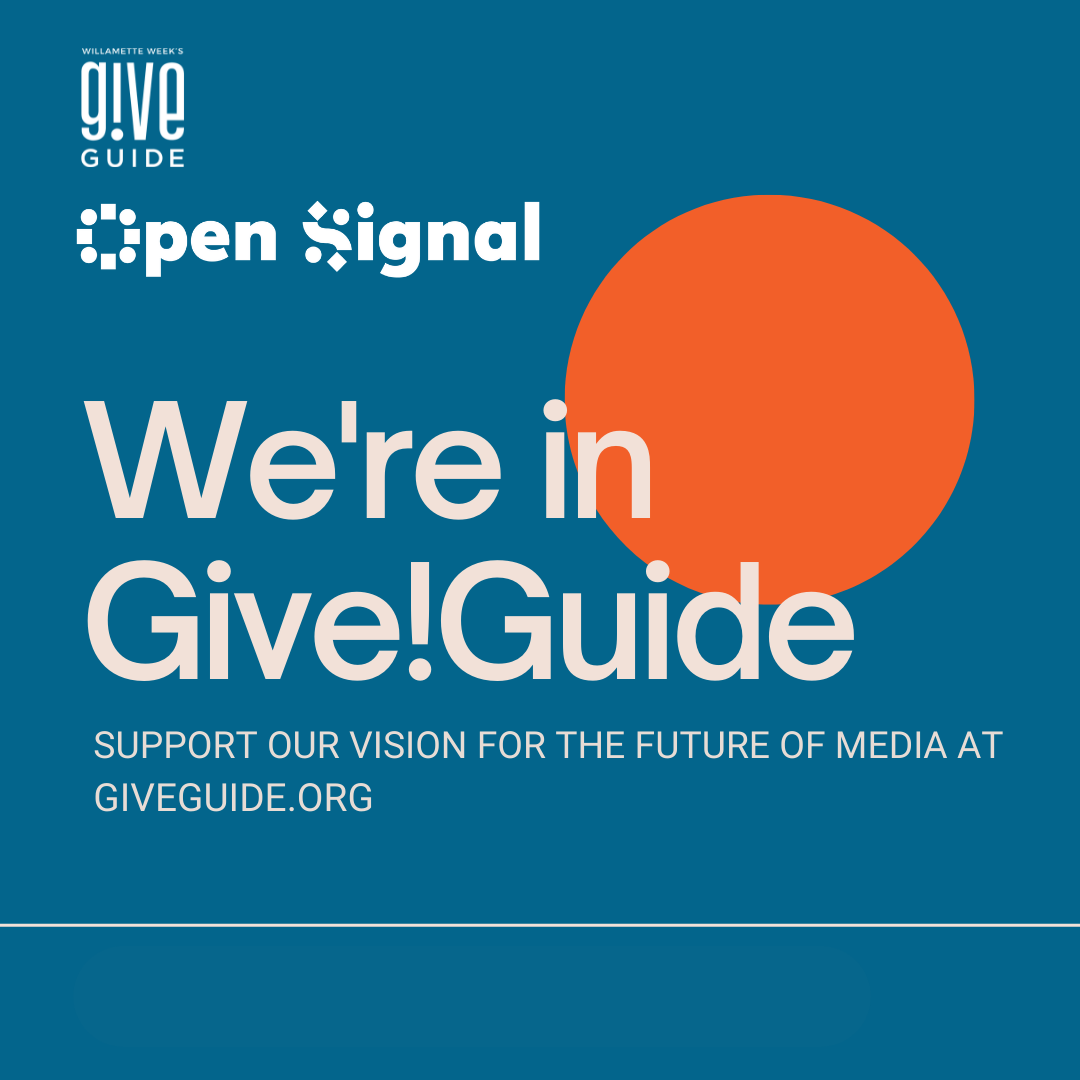 For the past six years, we've joined some of Portland's greatest nonprofits in Willamette Week's Give!Guide. The Give!Guide is Willamette Week's annual effort to celebrate and raise funds for the amazing work of local organizations. We are honored to take part once again, alongside 234 other nonprofits making a positive impact in Portland's communities.
Support Open Signal through the Give!Guide and join in our efforts to change the media landscape locally and shift the industry at large — to be more equitable and break down barriers that prevent full participation both behind and in front of the camera. Your donation in any amount means that we can continue to invest our resources in Portland-based storytellers — providing video production training, one-on-facilitation, production support, mentorship and equipment access free of charge to those from the full spectrum of experience.
Over the past year, Open Signal community members have produced news shows, mockumentary sitcoms, music videos, documentaries, travel guides and so much more. Each of these productions is rooted in a unique history and perspective. Together we are creating the future of media — tune in and see for yourself!
Your donation also makes you a member, connecting you to our community of media activists through monthly meetups and other opportunities for networking and collaboration.
The details:
Find Open Signal's Give!Guide page here. Donate $10 or more anytime from now until December 31st at 11:59pm.
Additionally:
All donors will be entered to win their very own private drive-in screening in Open Signal's parking lot.
All donations up to $5,000 will be matched by Conscious Minds Studios.
All new and increased donations will be matched 1:1 by the Maybelle Clark Macdonald Fund (an opportunity to triple your impact!).
All donors who give $100 or more by 12/25 will be entered to win a case of bubbly from A to Z Wineworks for your New Year's cheers.
All donors get a sweet grab bag of freebies from local businesses put together by Willamette Week.
All donors who give $50 or more by 12/25 get an Open Signal shirt.
All donors gain Open Signal membership, making you part of our community of media activists with invites to monthly skillshares, artist talks and opportunities for networking.
Watch out for special Big Give Days, which enter you into a raffle for the following big prizes:
November 3rd - Splendid Cycles E-Bike Giveaway
November 9th - Game Time with the Blazers
November 17th - Atlas Tattoo's Big Ink Giveaway
November 23rd - Big Book Day with Powell's
November 29th - Seaside Getaway with Salishan Coastal Lodge Stay
December 7th - Shopping Spree from New Seasons Market
December 15th - Cotopaxi's Big Travel Pack Giveaway
December 21st - Trek's E-Bike Extravaganza
December 28th - Big Beer Day with John's Marketplace
December 28th - Portland Nursery's Big Plant-Palooza
December 30th - OCT's Big Beautiful Oregon Getaway
And Willamette Week has also put together some freebies for all donors, including:
A free treat from Gluten Free Gem Pastry
A free class at Flex & Flow
Free chips & salsa from ¿Por Qué No? Taqueria
Free bowl of soup at Spoons on 13th
A $3 discount off a bag of beans at Mudd Works Roastery
Free Chinook Book app access
A free $6 credit to use anywhere that accepts Kuto payments
We have a goal of raising $20,000 during this campaign, and every gift, no matter how small, helps! Find us under Creative Expression at Give!Guide.org.
← Return to index