Artist Zeinab Saab Pays Homage to Aunties in New Mural
April 06, 2022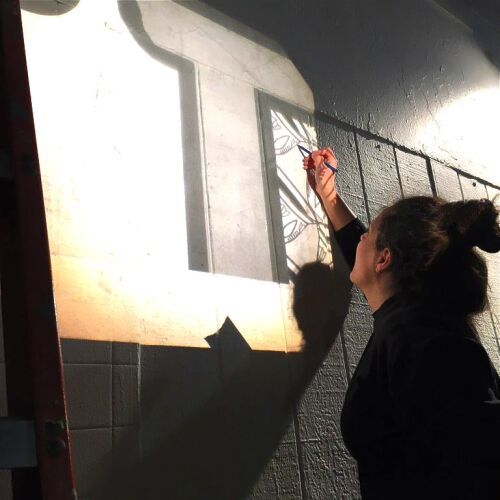 PORTLAND, ORE. – April 5, 2022 – Artist Zeinab Saab pays homage to the intimacy of porch conversations with their mural Benni wa bennek, now in progress at Open Signal's building on NE Martin Luther King Jr. Blvd at Graham Street. With vibrant neon colors and repeating tea cup graphics, the mural carries the spirit of aunties sharing conversation over Turkish coffee. Saab is currently at work on the mural with support from mentor Sarah Farahat. Benni wa bennek will be on view from April to September, part of the temporary mural program Fresh Paint.
Saab's work focuses on exploration of the self through color theory and the grid. After receiving their BFA in printmaking from Bowling Green State University in 2015, they completed their MFA in Printmaking at Northern Illinois University in 2019. Their work has been exhibited in San Francisco, St. Louis, Detroit, New York, California, Dubai, New Mexico, and Hawaii among other places. Their work is also held in several permanent collections, including Emory University; The Bainbridge Museum of Art; Zayed University in Dubai, UAE; the Arab American National Museum; and the University of Iowa's Special Collections Library.
Fresh Paint is a partnership between the Regional Arts & Culture Council and Open Signal that began in 2017. The program supports emerging artists of color with their first publicly funded mural commission while giving the artists the opportunity to expand their creative skill sets and build paths to other public commissions. Saab is the twelfth muralist to take part in this program; previous muralists have included Alex Chiu, Munta Mpwo, Limei Lai and Jose Valentine.
"This program is a great opportunity not only for artists to build their professional portfolio and get exciting new skills, but for our organizations to support important visual storytelling," explains Daniela Serna, Open Signal's Fresh Paint facilitator. "With every mural, we're able to showcase an artist's story, sharing bits of their communities and histories on a busy throughway — an act of placemaking that brings our wall to life."
Artist statement for Benni wa bennek:
"The theme of this mural is an homage to my childhood heroes: the aunties on the porch drinking Turkish coffee, eating sunflower seeds, and talking shit/spilling tea about folks in the neighborhood. "Benni wa bennek" simply translates to "between me and you". I wanted this piece to translate the idea of community and closeness and how quickly that connection is made over a cup of Turkish coffee or tea on your neighbor's baranda, or porch. Not only does it describe the intimate connection between two people, but it also speaks to an even closer physical space between you and your peer (credit Dana Ghazi on that last statement). For me, Benni wa bennek is a reinforcement of love, trust, and community bonds that no one can break."
###

Contact
Daniela Karina Serna, Communications Manager
Open Signal
daniela [at] opensignalpdx.org
(503) 288 - 1515 x931
Andrea Blanco, Communications and Advocacy Design Specialist
Regional Arts & Culture Council
ablanco [at] racc.org
(503) 823 - 5100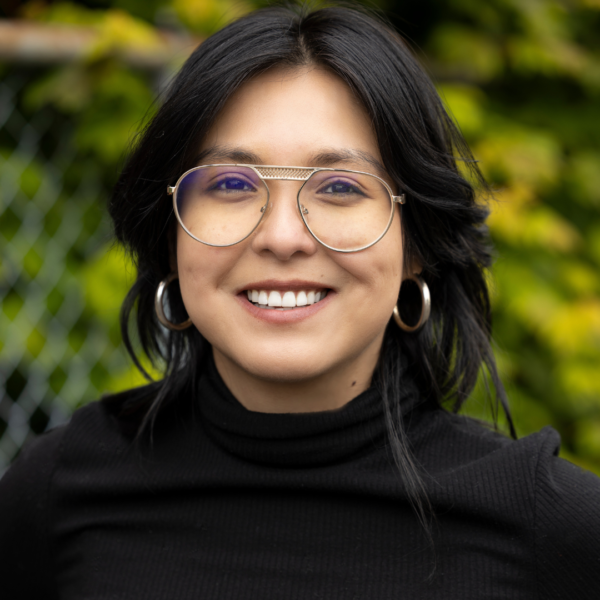 Daniela Serna
Communications Manager
daniela [at] opensignalpdx.org
Pronouns: she/her/hers, they/them/theirs

¡Yo hablo español!
I work in our Strategy & Development department, managing Open Signal's digital and print presence, and developing strategies to support the organization through clear and transparent public communications.

Outside of work, I am dedicated to resource sharing and skill-building in Portland's arts and music scene, organizing gatherings and workshops to hold space for and increase the visibility of BIPOC, women and and nonbinary artists. 
← Return to index