Press Release: Artist Pearlyn Tan Honors the Fight for Women's Rights with New Mural, Liberate
April 12, 2023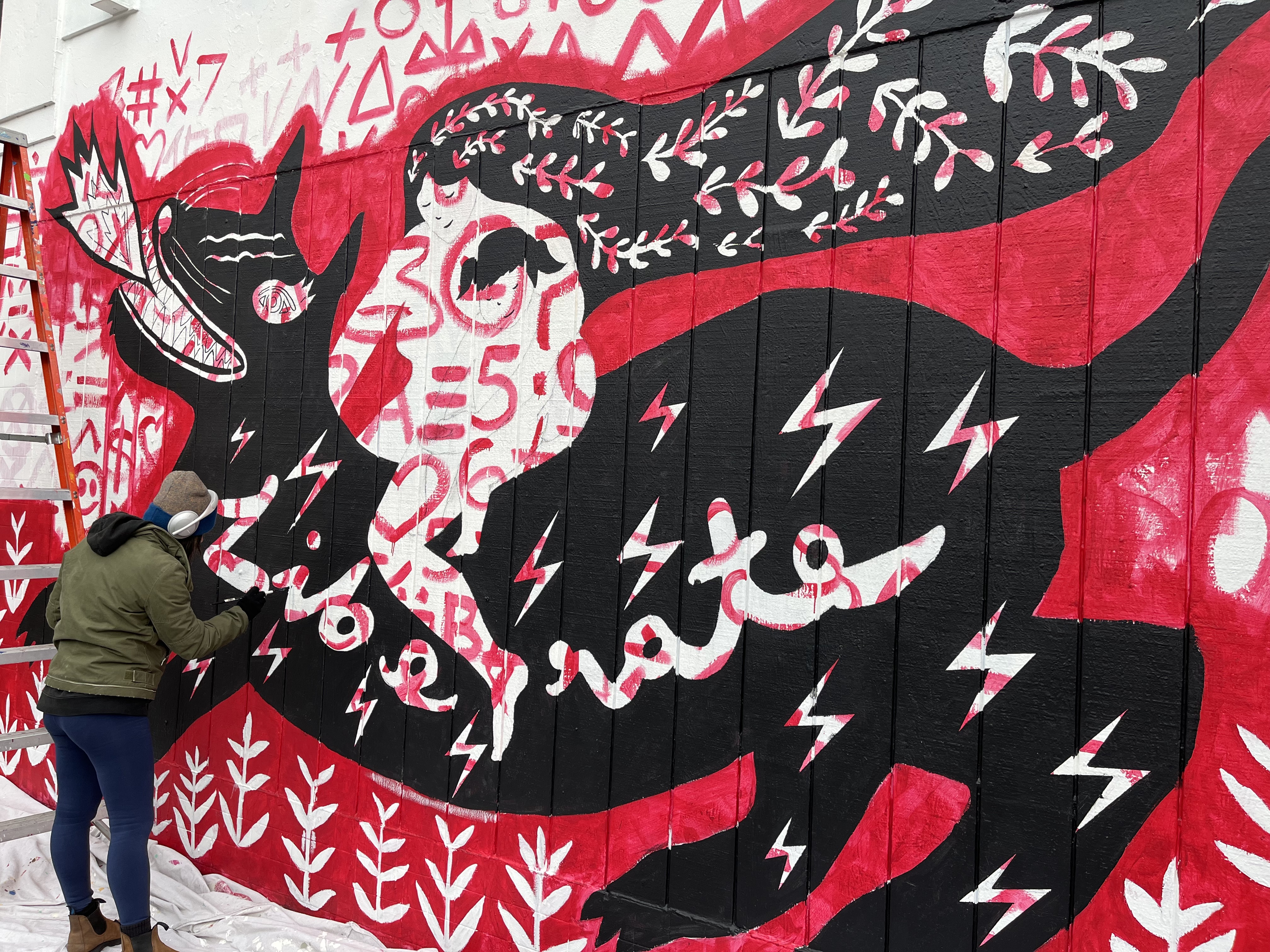 PORTLAND, ORE. – April 12, 2023 – A mother and child charge forward atop a ferocious spirit beast in Pearlyn Tan's new mural, Liberate. Tan's work is now on display at Open Signal as the current installment of the temporary mural program Fresh Paint, a partnership with the Regional Arts & Culture Council. The mural is up through September at Open Signal's wall on NE Martin Luther King Jr Blvd, between Graham and Knott Streets.
Liberate is bold and colorful, inspired by the energy, courage and momentum women need to fight for their rights in the face of oppression and recent attacks on bodily autonomy. In particular, the mural shines a light on the lack of representation for women of color. The work encourages women to keep up the fight for liberation, to build a world of freedom and opportunity for the next generation.
Originally from Singapore, Tan is self-taught in fine arts and draws influence from her textured background of varied cultures and careers. She worked as an art director, a designer and a hairstylist before finding her love for printmaking and painting. Her work revolves around themes of motherhood and Mother Nature. Tan is the fourteenth artist in Fresh Paint, following Jerome Sloan, Munta Mpwo, Limei Lai and others. Fresh Paint began in 2017 as a collaboration between the Regional Arts & Culture Council and Open Signal to support emerging artists of color with their first publicly mural funded commission. The artists are provided space to experiment with techniques and scale to expand their creative skill sets, bringing their visions to the Irvington neighborhood six months at a time. "We're so grateful to have partners like Open Signal who are willing to enter into dream space with us to conceive programs such as Fresh Paint. These offerings give artists the opportunity to expand their portfolios, evolve their practice and connect with new audiences through the direct experience of creating within community" says Sophie May Hook, Public Art Project Manager at the Regional Arts & Council.
See more from the artist at @The_Unordinary_Motherhood.
###

Contact:
Daniela Karina Serna, Communications Manager
Open Signal daniela [at] opensignalpdx.org
(503) 288 - 1515 x931
Carol Tatch, Co-Executive Director
Regional Arts & Culture Council
ctatch [at] racc.org
← Return to index