Press Release: Community Panel Breaks Down Hip-hop in Portland
May 18, 2017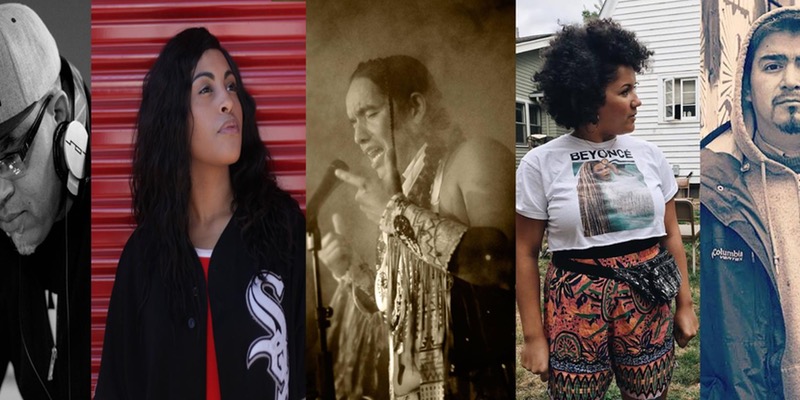 Community Discussion Breaks Down Portland's Love/Hate Relationship with Hip-hop
The Happening 2017:
Portland's Love/Hate Relationship with Hip-hop
Saturday, June 10, 2017
Noon – 4:00 p.m.
Open Signal, Portland Community Media Center
2766 NE MLK Jr. Blvd. | Portland, Oregon 97212
$7; Register via Eventbrite



PORTLAND, ORE. – May 18, 2017 – Hip-hop in Portland is growing in respect and stature, as emerging and established artists navigate a shifting musical landscape. In the fourth annual music workshop The Happening, a diverse panel will provide insight into the past, present and future of Portland's hip-hop community. The Happening is sponsored by the Regional Arts & Culture Council and co-hosted by Open Signal and XRAY.FM.
Moderator DJ Klyph will prompt artist Karma Riviera, artist/educator Fish Martinez, journalist Jenni Moore and promoter Anthony Sanchez to share their takes on the state of our local hip-hop scene. Panelists will address topics like dealing with the media, finding space to practice and perform and relationships with local government and law enforcement.
"Hip-hop is often an afterthought in the conversation about local music," said Andre Middleton, Open Signal Director of Equity and Digital Inclusion. "This is our opportunity to put that community front and center."
The event will open with tabling from local music vendors between noon and 1pm. The panel will run from 1-2 p.m., with an audience-focused Q&A from 2-3 p.m. Following the Q&A, attendees will choose between several breakout sessions, which will be led by the panelists and will dive deeper into the topics raised in the panel discussion.
Participants are also invited to tour Open Signal's facility to see the resources musicians can use to produce, upload and share digital content. Open Signal, and its predecessor Portland Community Media, have supported local artists for decades by offering free access to audio gear and broadcast opportunities on local cable channels.
"There's a lot of good happening in the scene right now," says Middleton. "We'll talk about how we can continue to grow in a healthy way."
The public is invited to read more and purchase tickets through Eventbrite.
###
---
Contact
Rebecca Burrell, Director of Strategy & Development
rebecca [at] opensignalpdx.org
(503) 673-8709
← Return to index