Press Release: Justen Harn Wins Forty Under 40 Award
June 25, 2018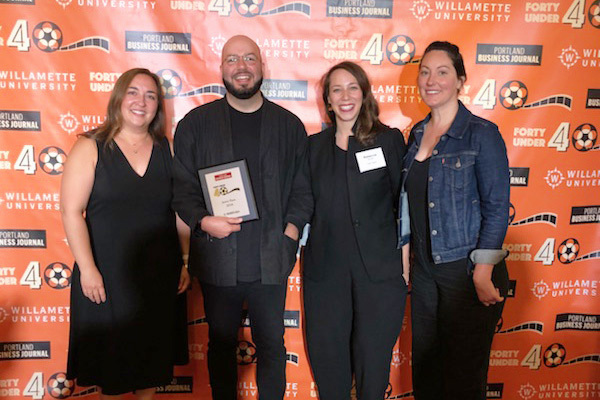 Open Signal Executive Director Justen Harn Wins Forty Under 40 Award from the Portland Business Journal
PORTLAND, OR. - June 25, 2018 – Justen Harn, Open Signal's Executive Director, has been selected to receive a Forty Under 40 award, delivered annually to Portland's most promising leaders under the age of 40 by the Portland Business Journal. The award ceremony took place last Friday, June 22 at the Hilton Hotel.
Roughly 400 nominations were submitted this year, making 2018 one of the most competitive rounds in the award's history, according to the Journal. The 40 selected honorees represent industries including law, technology, apparel and sports, as well as the nonprofit sector.
Past Forty Under 40 award winners include Timbers owner Merritt Paulson, Oregon State Representative Jennifer Williamson, Le Pigeon chef Gabriel Rucker and Powell's Books owner Emily Powell.
Since Justen was hired by Portland Community Media in January 2016, he has orchestrated a full organizational transformation, including a new brand identity as Open Signal, comprehensive building improvements and bold new programs and services. In a single year, he led his team to triple the number of community members served.
His leadership also increased the organization's operating revenue by more than 40%, significantly growing earned income and raising more than $400,000 in grant funding and individual donations, a first for the organization.

"Justen absolutely deserves this award and we couldn't be more proud," said Lisa Faust, Open Signal's Board President and Senior Vice-President at Columbia Bank. "The growth of this organization since Justen's hire is astronomical."

Prior to joining the team at Open Signal, Justen Harn was a principal architect of the revitalization of Portland's Hollywood Theatre, where he served as Director of Programs and Community Engagement for nine years. He is also a co-founder of Houseguest, an artist residency program at Pioneer Courthouse Square that awards grants to artists to create large-scale, participatory works. Justen co-owns Seven Sisters, a women's retail shop on East Burnside and online marketplace.
Read more about Forty Under 40 and see the full list of awardees on the Portland Business Journal website.
###


Contact
Yousef Hatlani, Marketing Manager
yousef@opensignalpdx.org
(503) 536-7622
← Return to index