Press Release: Kalimah Abioto to Debut Film on First Thursday
February 16, 2017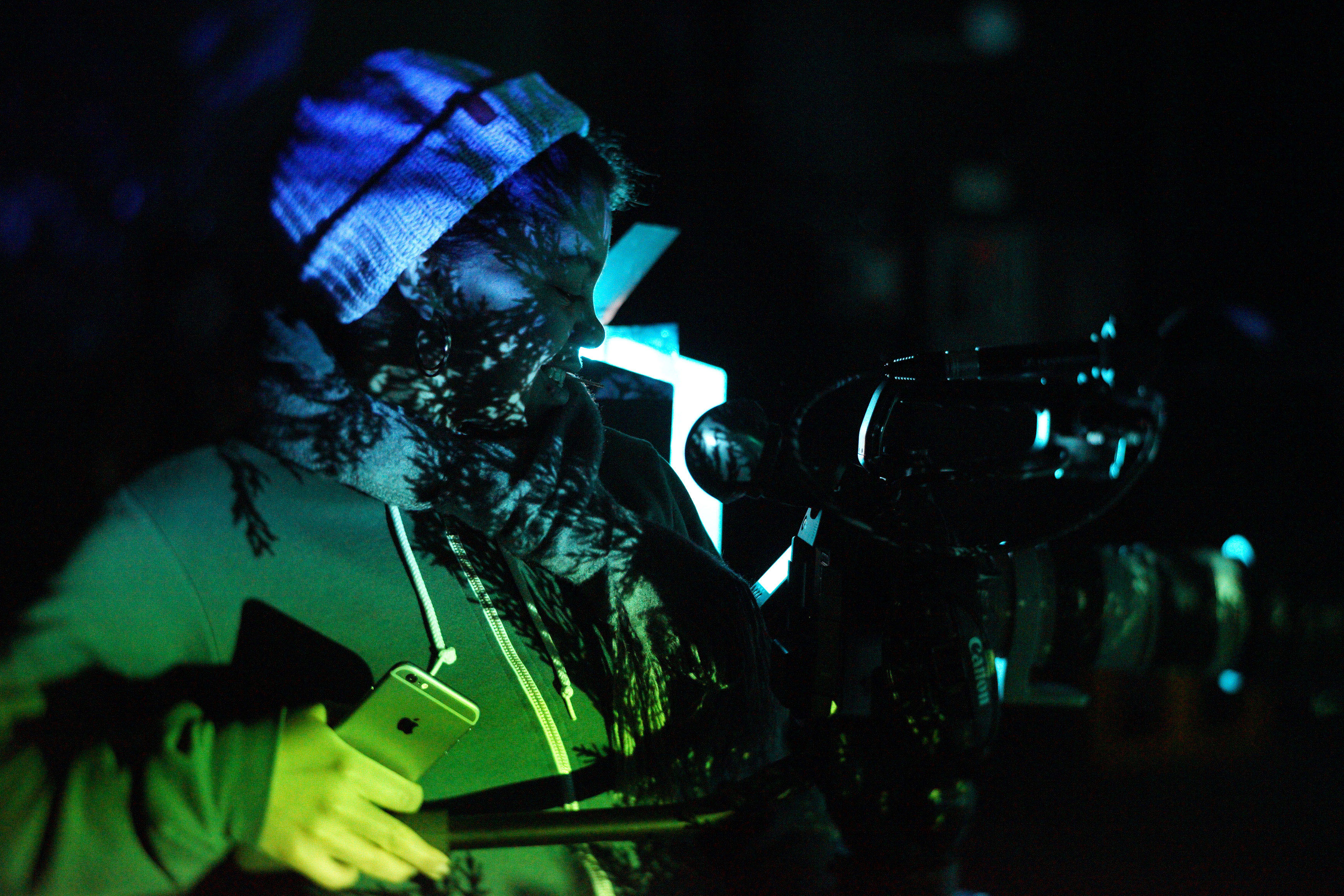 Kalimah Abioto, Artist-in-Residence with Open Signal and RACC, to debut film on First Thursday
Filmmaker Kalimah Abioto collaborated with the local arts community to create an experimental film about traveling between imagined dimensions.

PORTLAND, ORE. – February 16, 2017 – Open Signal and the Regional Arts & Culture Council (RACC) have partnered to support an artist-in-residence, Kalimah Abioto. The residency is part of Night Lights, a monthly digital media event in which artists project their work onto the north exterior wall of RACC's downtown offices on First Thursdays. Abioto will produce a new work for the next edition of Night Lights on Thursday, March 2.

A graduate of the film program at Hollins College, Abioto's work includes experimentally edited short documentaries and narrative films, with a focus on the Portland and Memphis African-American communities.

Through Night Lights, Abioto was granted a stipend of $5,000 from RACC and use of Open Signal media equipment, facilities and training. In November, she used these resources to travel and collect video footage in Bamako, Mali, West Africa.

Since returning to Portland, Abioto has collaborated with local dancers, musicians, filmmakers and prop-makers to create her Night Lights film entitled Sight. The film tells the story of three young girls with the ability to travel to different dimensions, who help an adult woman to rediscover her own power.

"It's a film about spirituality—going inside to retrieve your gifts and share them with the world," Abioto said. "Embracing your shadow, in a way."

Through her residency, Abioto had access to Open Signal's equipment and production studios, which she used to create one of the dimensions in Sight. Dancers Uriah Boyd, Akela Jaffi and Mia O'Connor staged a dance alongside the three young leads in Open Signal's Cyclorama green screen studio, to music written and performed by Abioto's sister, Amenta Abioto.

"The green screen studio is phenomenal," Abioto said. "So is having the office space to meet with the team and the talent, as well as access to the equipment—it's like having a support team."

Abioto will debut her film at Night Lights on Thursday, March 2, starting at dusk, at the Regional Arts & Culture Council, 411 NW Park Avenue, Portland.

Abioto will also share her work in progress during Open Signal's first Open House on Saturday, February 25 from 4-8pm. Open Signal, Portland Community Media Center is located at 2766 NE MLK Jr. Blvd. in Portland.

On Wednesday, March 22, she will deliver an artist talk in conjunction with her collaborators at Open Signal at 7:00 p.m., screening her film again, discussing her filmmaking process and taking questions from the audience about its inspiration and production.

###

About Night Lights
Night Lights is a monthly public art event that promotes digital media, urban intervention, and technological innovation. On the First Thursdays of October through April, select artists are able to showcase their work on the North Wall of the Regional Arts & Culture Council. Night Lights is a collaboration between Open Signal and RACC.

About RACC
The Regional Arts & Culture Council (RACC) was established in 1995 and is funded by public and private partners to serve artists, arts organizations, schools and residents throughout Clackamas, Multnomah, and Washington counties. RACC provides grants for artists, nonprofit organizations and schools; manages an internationally acclaimed public art program; raises money and awareness for the arts through workplace giving and other programs; convenes forums, networking events and other community gatherings; provides workshops and other forms of technical assistance for artists; and integrates the arts into K-8 curriculum through The Right Brain Initiative.

---

Contact:

Rebecca Burrell, Director of Strategy & Development
rebecca [at] opensignalpdx.org
(503) 673-8709

← Return to index