Press Release: Open Signal's New Annual Report Shows Continued Growth
February 11, 2019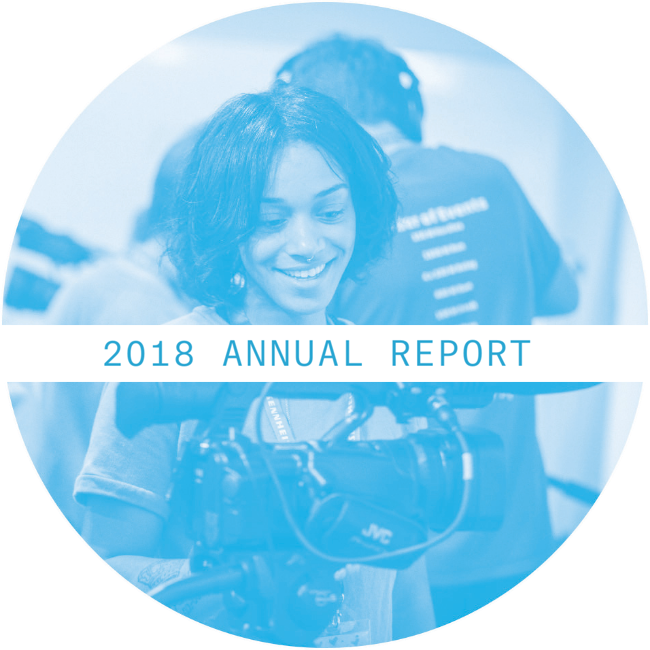 Two Years In, Open Signal Continues to Grow and Evolve, Says New Report

PORTLAND, ORE. – February 12, 2019 – Expanded services and increased funding are the major themes of the 2018 Annual Report released today by Open Signal, a media arts center located in Northeast Portland.
The report is released two years after Open Signal introduced itself to the community as an ambitious new media arts center, in January 2017. Led by new leadership staff from the Hollywood Theatre and the Regional Arts & Culture Council, the organization builds upon the legacy of Portland Community Media (PCM), a 35-year-old cable access station. Open Signal combines PCM's facilities with new programming and a bold new vision for community-driven media combining creativity, technology and social change.

Major accomplishments from 2018, featured in the report, include:
42% increase in the number of people who reserved Open Signal's public media equipment and production studios during fiscal year 2018 (July 2017 - June 2018), compared to the previous fiscal year
36% increase in operating and project-based funds in fiscal year 2018 compared to fiscal year 2016, due to major growth in earned revenue, grants and individual giving
A Forty Under 40 award for Executive Director Justen Harn from the Portland Business Journal, selected from a competitive applicant pool of approximately 400 nominees
An Inspiring Creativity award from Portland Monthly magazine's Light a Fire awards, recognizing excellence in nonprofits
Launch of a major new fellowship program for African American filmmakers, which raised nearly half a million dollars in calendar year 2018
A radically inclusive new $1 membership program that raised more than $18,000 from over 500 members in its first nine months
Major philanthropic support from the Meyer Memorial Trust, The Oregon Community Foundation, James F. and Marion L. Miller Foundation, The Collins Foundation, the Oregon Cultural Trust and more
"During my seven years on the board of Portland Community Media and now Open Signal, this organization has never been on better footing, programmatically or financially," said Lisa Faust, Open Signal Board President and Senior Vice-president at Pacific West Bank.

"The dynamite staff at Open Signal continually up their game, providing more and better services that fill major gaps in the media landscape of Portland."
Open Signal operates primarily through the generous support of the City of Portland and the Mt. Hood Cable Regulatory Commission, which directs cable franchise dollars to Open Signal to deliver community media services and program five local cable channels with independently produced content. Additional funding supports Open Signal's educational and artistic programming.

Download the full report here. The print report can also be obtained on-site at Open Signal's community space or by contacting Open Signal staff.
###




Contact
Rebecca Burrell, Director of Strategy & Development
rebecca [at] opensignalpdx.org
(503) 673-8709
← Return to index