Press Release: Open Signal Explores Immersive Media with Four New Media Fellows
August 30, 2019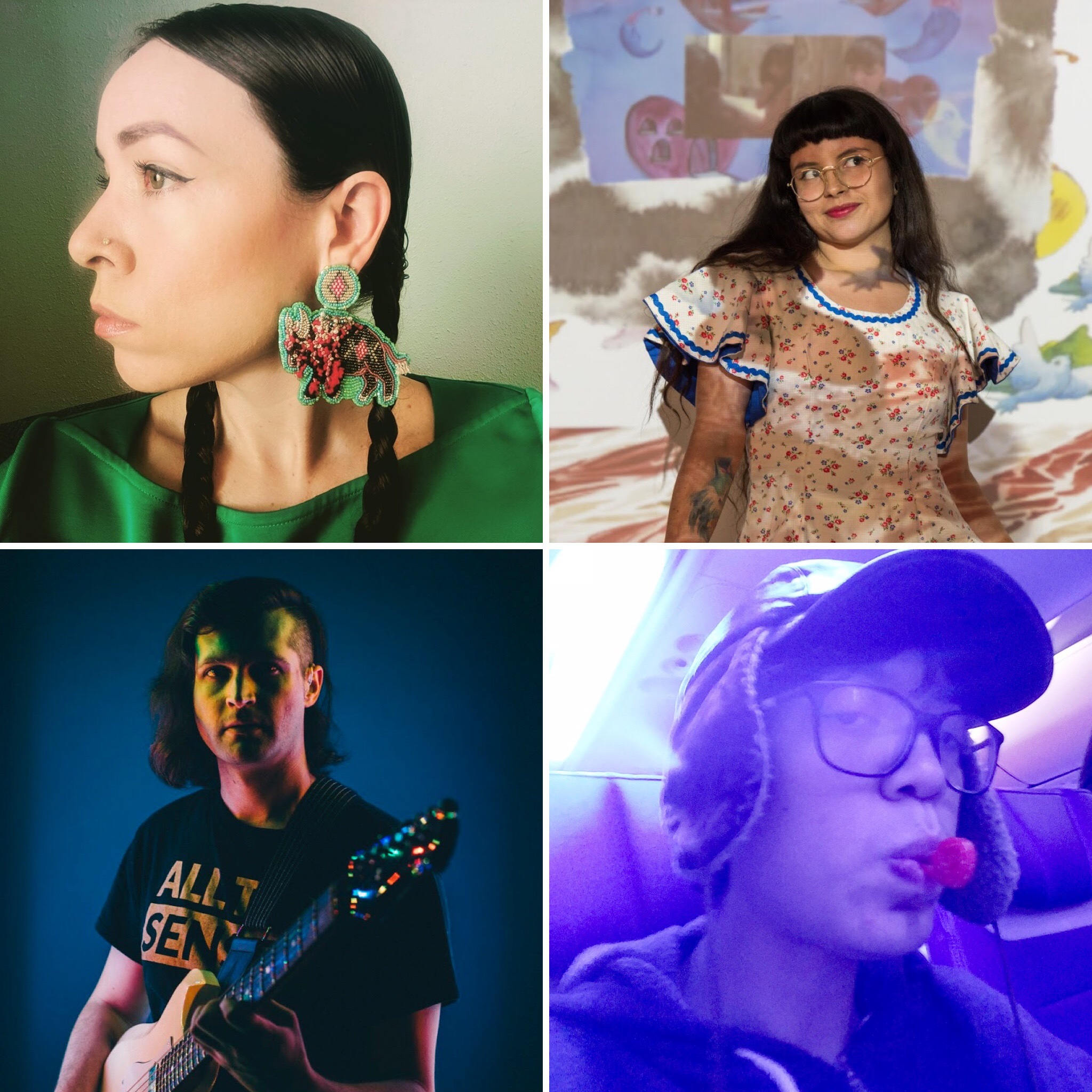 Open Signal Explores Immersive Media with Four New Media Fellows
PORTLAND, OR. - August 30, 2019 – Four local artists join Open Signal: Portland Community Media Center for the third year of its New Media Fellowship, a residency program that supports artists exploring the social implications of immersive technologies.
Artists Myles de Bastion, Laura Medina, Jessica Mehta and Sam Mendoza will each work in residence for four months to create new projects that incorporate virtual reality (VR), mixed reality, 360 video and immersive media art installations. Their work will use immersive media to address disability, poetry, decolonization and immigrant experiences. The residencies begin September 2019.
The fellowship is the only program of its kind in the state of Oregon, and a unique opportunity for Portland-based experimental media artists to receive professional support and to create new work. Each artist will receive a $2,000 stipend, a $500 material budget and studio production training with 3D and VR software and equipment from Open Signal's new media inventory.
Artists will also have a one-on-one mentorship with Matt Henderson of Portland Immersive Media Group and 360 Labs, a Portland-based company specializing in 360-degree media. Each artist will present a final exhibition of their work on site at Open Signal.
With support from the National Endowment for the Arts, the fellows will also travel to New Mexico to exhibit their work at the CURRENTS Santa Fe International New Media Festival in June 2020. At the festival, they will show their work at the 360-degree Digital Dome at the Institute for American Indian Arts (IAIA).
"It is really exciting to be able to bring our fellows out-of-state for the first time," said Taylor Neitzke, Director of Programs at Open Signal. "It is a huge honor to present the work of these artists at an international media festival in a truly one-of-a-kind space at the IAIA. We are excited about how this trip will help these artists take their careers to the next level and incite conversations with artists in other states."
Past and current New Media Fellows have received grants, exhibitions, fellowships and residencies at locations around the country. Most recently, Fellow Sharita Towne received a 2019 Creative Capital award, manuel arturo abreu was selected for a 2019 Emerging Artist Residency at the Centrum Foundation and May Cat for a 2020 residency at the Santa Fe Art Institute.
2019-20 New Media Fellows applied to the program through an open call for submissions. They were selected by a panel of local and national arts organizers.
The New Media Fellowship program is funded by the National Endowment for the Arts, the Jackson Foundation and the Regional Arts & Culture Council.
Fellowship Bios
September - December 2019 Fellows
Jessica Mehta is a multi-award-winning poet and artist who works at the intersections of mixed and digital media. She is currently a poetry editor at Bending Genres literary review, Airlie Press, and the peer-reviewed Exclamat!on journal. Jessica is also the founder of the Jessica Tyner Scholarship Fund, the only scholarship exclusively for Native Americans pursuing an advanced degree in writing.
Jessica's exhibition opens at Open Signal March 10, 2020.
Laura Camila Medina is an interdisciplinary artist born in Bogota, Colombia and raised in Orlando, Florida. She bases her practice around memory and identity as a response to personal, cultural and historical research. Her work has shown at the Center for Contemporary Art & Culture, PLANETA New York, Blackfish Gallery and with the Nat Turner Project. She earned her BFA at the Pacific Northwest College of Art.
Laura's exhibition opens at Open Signal May 12, 2020.
February - May 2020 Fellows
Sam Mendoza is an educator at Portland Community College, as well as the Manager of the Virtual Reality Development Center at PCC's Cascade Campus. They also work as an independent artist and activist focusing largely on technology, indigenous futurism, decolonization, immigrant rights, trans rights, equity and environmentalism.
Sam's exhibition opens at Open Signal August 11, 2020.
Myles de Bastion is an artistic director, musician and creative-altruist who develops technology and art installations that enables sound to be experienced as light and vibration. A strong advocate for disability rights, Myles' work centers upon themes of inclusion, diversity, equity and access for Deaf and disabled people. He is the founder of CymaSpace, a nonprofit that facilitates arts and cultural events that are inclusive of the Deaf and Hard-of-Hearing.
Myles' exhibition opens at Open Signal October 13, 2020.
###
Contact
Yousef Hatlani, Marketing Manager
yousef [at] opensignalpdx.org
(503) 536-7622
← Return to index