Press Release: Open Signal Launches 10-month Program for Artists
March 28, 2017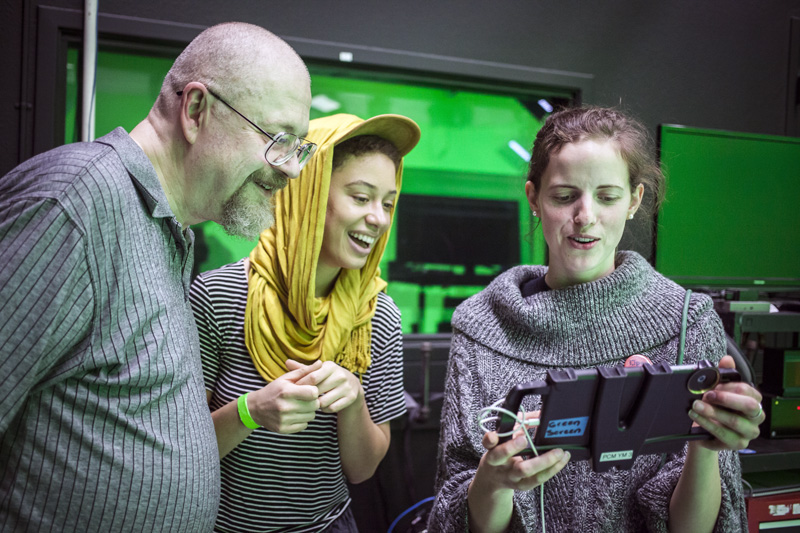 Open Signal launches 10-month immersive program for digital artists
Applications accepted through June 16, 2017

PORTLAND, ORE. – March 28, 2017 – As the cost of traditional degree program increases each year, Open Signal introduces Future Forum, an educational alternative for media artists and makers. This in-depth experience is part artist residency, part structured learning program and part community engagement; a unique opportunity for artists who use technology to strengthen their skills and expand their work.
Between August 2017 and May 2018, the first cohort of 12 participants will benefit from focused training, independent projects and interactions with professionals in the field. Making use of the state-of-the-art equipment and facilities at Open Signal, the cohort will cultivate media skills of their choice, exploring filmmaking, experimental media, creative coding and more. They will be part of a shared learning environment that encourages collaboration and exchange of ideas.
Future Forum participants will also share their knowledge and gain teaching skills by delivering a media education experience to an Open Signal partner organization that serves marginalized populations. Partners may include Open School North, Benson Polytechnic High School or Columbia River Correctional Institute.
Future Forum is led and conceived by Stephen Slappe, head of the Video and Sound department at Pacific Northwest College of Art.
"Future Forum is an opportunity to experiment radically with art and education," said Slappe. "We'll have more room to play outside of the walls of the institution. Participants will have time to incubate their work in a supportive, community-based approach to learning."
"We want to remove the massive debt that often accompanies art education," said Taylor Neitzke, Open Signal Program Director. "We believe that increasing higher education costs stifles diverse voices in the arts and we want to hear more of those voices."

The cost to attend the 10-month program is $3,000. Two work-study students will receive up to a full subsidy of the program costs. Applications for the program and work-study positions are due June 16, 2017.
Read more about the program and application requirements.

###


---

Contact

Rebecca Burrell, Director of Strategy & Development
rebecca [at] opensignalpdx.org
(503) 673-8709
← Return to index