Press Release: Open Signal Staff Member Receives National Award
July 15, 2020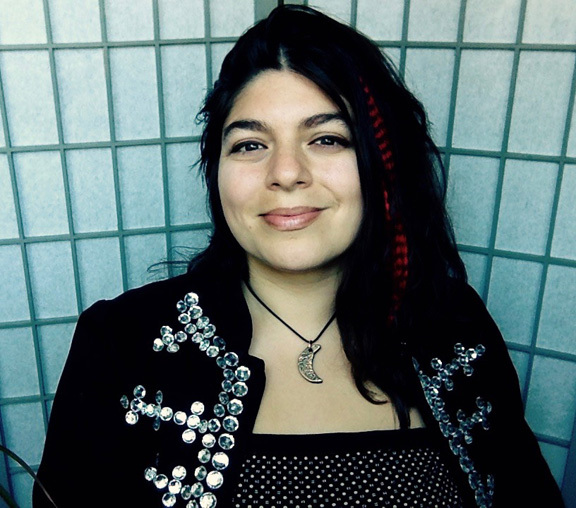 Open Signal Staff Member Receives National Award
PORTLAND, ORE. – July 15, 2020 – Kathryn "KatMeow" García, Open Signal's Community Media Advocacy Manager, has been selected for the 2020 Jewell Ryan-White Award for Cultural Diversity by the Alliance for Community Media. This award is given annually to one United States-based community media leader for an outstanding contribution that encourages, facilitates or creates culturally diverse or non-mainstream community involvement in the field. Founded in 1976 and currently based in Minneapolis, Minnesota, the Alliance represents over 3,000 community media centers throughout the country.
KatMeow is a trilingual media educator that has been on staff since 2014, working with instructors and volunteers to offer media education curriculum that engages creativity, values equity and provides access to industry-standard production equipment and software.
Since that time, KatMeow has:
Designed and presented training for instructors, staff and volunteers on trauma-informed teaching strategies, accessibility practices and interrupting microaggressions in the classroom.
Proactively helped English, Spanish and Mandarin-speaking community members access Open Signal classes, and create and upload content to Open Signal channels.
Co-led Open Signal's effort to create alternative equipment options for content creators who use mobility devices, are Deaf or hard of hearing, or have other accommodation needs.
Open Signal Producer Mahesh Madhav said: "We can see KatMeow's strengths at play on a personal level, a local level, and a national/international level. Whether it is on a production set, at a non-profit board meeting, or volunteering in the field, everyone seeks to surround themselves with genuine leaders that respect the team and treat people well – characteristics that KatMeow exemplifies. I deeply value the time I have spent collaborating with KatMeow and look forward to seeing them continuing to empower the masses through media education."
"The power of community media lies in authenticity and self-determination – the act of ensuring that media reflects people's needs and experiences and treats people as subjects of their own history, rather than as objects," said Mike Wassenaar, President & CEO, The Alliance for Community Media. "That's why this award means so much to people in our field and why we are honored to present the award to KatMeow Garcia."
In late 2019, KatMeow was also selected for the Converge Academy, as one of 24 social purpose leaders selected from a pool of 150 applicants across the nation to receive leadership training in Brooklyn, New York. Converge is a program of the American Express Leadership Academy and the Center for Creative Leadership.
In addition to work at Open Signal, KatMeow is an Executive Director for the Girl Game Gang, a small production company that recruits mainly BIPOC lady and non-binary identified emerging film industry professionals. They also volunteer for the local Sexual Assault Resource Center (SARC) as a peer support for survivors, and The Healing Circle VOCA Camp for youth survivors. They currently serve as the President of The KBOO Foundation.
KatMeow has also lived and taught in Nicaragua and China. KatMeow is a graduate of The Evergreen State College, and earned a BFA in Film and a minor in Social Justice. In their spare time, they are a producer, painter, writer, singer, gardener and an activist. This year, KatMeow was awarded an artist residency at PLAYA in Summerlake, Oregon.
Watch KatMeow's acceptance speech.
###
Contact
Rebecca Burrell, Director of Strategy
rebecca [at] opensignalpdx.org (503) 288 - 1515 x201
← Return to index