Press Release: Summer Classes Expose Fake News
May 12, 2017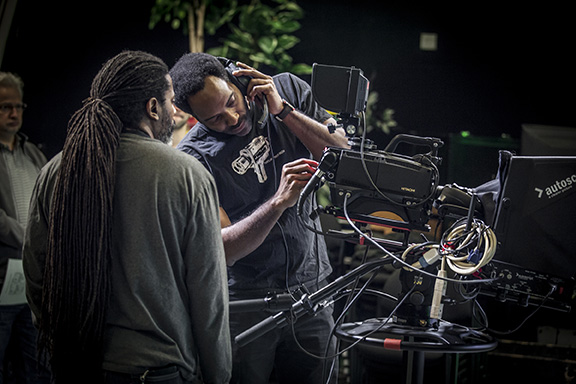 Open Signal's Summer Classes Expose Fake News & Inspire Independent Media Production
Open Signal puts the power of media back into the public's hands, teaching advanced documentary filmmaking, media literacy and more

PORTLAND, ORE. – May 12, 2017 – In response to widespread concerns about "alternative facts," corporate media consolidation and the receding freedom of the press, local media arts nonprofit and public access center Open Signal presents a full slate of summer classes designed to raise awareness of media manipulation techniques and encourage the creation of socially driven programming for their five cable channels.

"We've seen the damage fake news can do," said Open Signal Director of Programs Taylor Neitzke. "Now more than ever, it's imperative that people understand how the media works and how to use media tools to cover untold stories."

More than 25 summer courses scheduled for adults and youth by Neitzke and her team include:
Fake News: A Visual FX Primer in Altering Video Using Adobe After Effects, a course that teaches students how to recognize altered footage
Record/Inspire: Advanced Documentary Filmmaking with the Sony FS7, which plunges students into making mini-documentaries for Open Signal's cable platform
Activist Filmmaking teaches users to document events in the field, including protests and strikes, creating professional-looking footage with lightweight and portable filmmaking kits
XRAY's Reel Voices: A Filmmaking Camp for Young Women, a camp for female-identified and non-binary high school students led by XRAY.FM's Devin Febbroriello, which seeks to correct the media's gender imbalance.
Open Signal makes $650,000 worth of state-of-the-art media equipment, as well as production studios, available to the public. Students get certified to use these resources for free through Open Signal's educational programs.

In 2016, Open Signal classes resulted in the production of over 9,000 hours of non-commercial television programs in English, Spanish, Russian and Farsi. In the second half of the year, 73% of class participants had household income under $40,000, 35% under $20,000.

"We want Portlanders to see Open Signal as a resource for inspiring social and cultural change," Neitzke said. "We hope our summer media workshops bring even more activist-crafted programming to our channels."

See Open Signal's complete schedule of upcoming events on the just-launched online calendar.


###

---


Contact
Rebecca Burrell, Director of Strategy & Development
rebecca [at] opensignalpdx.org
(503) 673-8709
← Return to index