Design Week Portland 2019: Democratizing VR for More Livable Cities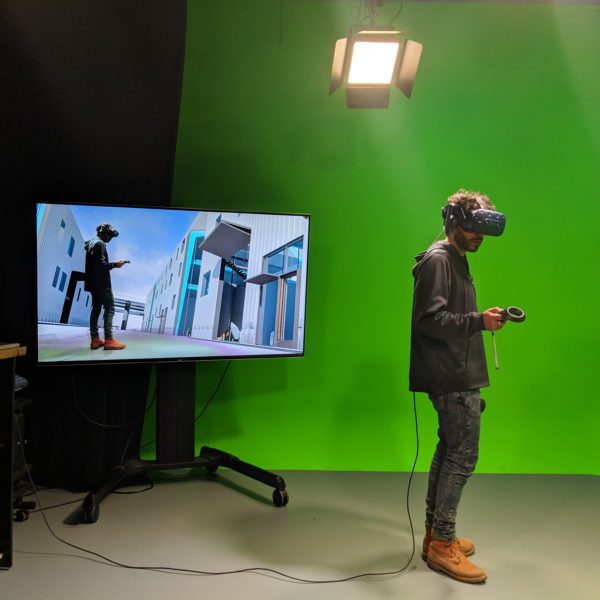 Cost:

$15.00

Capacity:

250
Explore a series of Virtual Reality exhibits designed by collaborators from Vanport Mosaic and Bora Architects, followed by a panel discussion with folks from Portland State University, ZGF Architects and the City Repair Project on how to incorporate VR into the community visioning and planning process of urban design.
Attendees will be invited to freely explore two VR experiences throughout the evening, wrapping with a summary panel discussion wherein design professionals, event partners, and community members address the opportunities and challenges they see in attempting to democratize access to this emerging technology as part of the placemaking process.
Experience 1: Reveal History
Partner: Vanport Mosaic + Sharita Towne
Incorporating oral histories into a VR experience. Attendees will be able to experience the history of Vanport through a combination of recorded narrations, historical imagery, and Google Earth VR, gaining a new perspective and understanding of how communities have been affected by the planning decisions that have resulted in today's Portland, in both physical and virtual space.
Experience 2: Demo the Future
Partner: Bora Architects + Matt Henderson (Portland Immersive Media Group)
Attendees will be invited to explore a VR model of Bora's conceptual design for Portland's Central Eastside Industrial District to demonstrate the kinds of assets communities could generate to promote alternative visions for urban design. Using live VR cameras in Open Signal's studio, attendees in the VR space will be recorded and broadcast to those outside the model, showcasing the powerful emerging communication resources accessible to community members and designers.
Panel Discussion, Q+A
Panelists: Laura Lo Forti, Vanport Mosaic; Ridhi d'Cruz, The City Repair Project; Todd Ferry, PSU Center for Public Interest Design; Charles Kelly, ZGF Architects; Jeanie Lai, Bora Architects

Visual Artist: Alex Chiu

During the panel, the artists and experts will reflect on what worked well and what felt difficult in creating the exhibits. They will also discuss how Open Signal can be a resource for communities to make use of this emerging media/communication technology. With Alex Chiu using VR painting software (Tilt Brush) to illustrate placemaking concepts during the discussion, will examine how this technology could be used as a tool in community visioning exercises. Attendees will have the opportunity to ask questions and share in a dialogue about what they see as the biggest possibilities and challenges posed by VR for these kinds of community-centered applications.

Event Times
Exhibits 1+2, Mix + Mingle 5:00 - 5:45 PM
Panel Discussion, Q+A 5:45 - 6:45 PM
Explore Exhibits, Mix + Mingle 6:45 - 8:00 PM
Throughout the event, we will have complimentary beverages and refreshments available. When you're not exploring the exhibits or engaging with the panelists, feel free to grab a drink or a snack and get to know your fellow attendees.
Ticketing
General Admission Tickets Use the Eventbrite link below to purchase.
Open Signal Members
We want this event to be as accessible as our memberships. If you are a Member of Open Signal's community, we will be making tickets available on a sliding scale from $1 - $15. A registration link will be sent out in our Members Newsletter in March. A limited number of free tickets will be available, watch for details in the Newsletter!
Collaborators
Laura Lo Forti, Vanport Mosaic, co-founder and co-director

Ridhi d'Cruz, Co-Executive Director Co-Director for Placemaking, Development, Leadership Development Departments Diversity and Equity Program Specialist.

Todd Ferry, Associate Director and senior research associate at PSU's Center for Public interest Design.

Charles Kelly, Principal at ZGF Architects.

Jeanie Lai, Principal at Bora Architects

Sharita Towne, Artist, Open Signal New Media Fellow

Alex Chiu, Artist

Matthew Henderson, Immersive Media Artist + Educator, Portland Immersive Media Group + Open Signal

Cari Viillescas, VR Expert + Designer at Bora Architects
Dates
Apr 9
Tuesday
5:00pm – 8:00pm
Location
Open Signal, Portland Community Media Center
2766 NE Martin Luther King Jr Blvd
Portland, OR 97212
Get Directions
Policies
For More Information
For general information or directions to our space, please contact our front desk at (503) 288-1515 or info [at] opensignalpdx.org.
Getting Here
Open Signal is located off the #6 or #4 bus line. If you are driving to Open Signal, we have a parking lot located on NE Graham. Our main entrance is located on NE Graham off of NE MLK.
Refund Policies for Events
You must cancel up to 72 hours in advance to receive a full refund. There will be no refunds or transfers if you cancel with less than three days notice or fail to show up.
Open Signal is a Safe Space
Open Signal is committed to providing an inclusive and welcoming environment for the community. Open Signal does not and will not discriminate on the basis of race, color, religion (creed), gender, gender expression, age, national origin (ancestry), disability, marital status, sexual orientation, or military status, in any of its activities or operations, and we ask that you do the same when you attend our workshops and events.
Open Signal is fully wheelchair-accessible. Reasonable accommodations may be made upon request.