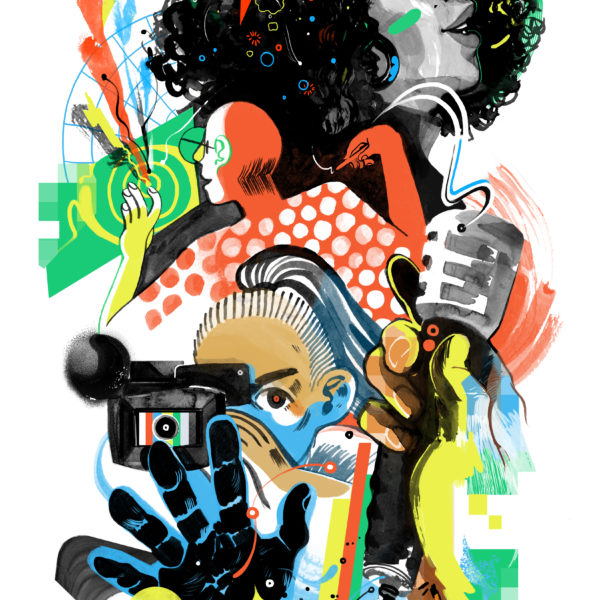 Cost:

$8.00

Capacity:

200
Bring the entire family to Open Signal Fest, a day-long party celebrating new digital art and video, collaboration and community!
RSVP on Facebook

Open Signal Fest is a day-long celebratory explosion of media arts and community. Join us for a blowout of live performances, local bands, comedy, media workshops, large-scale video projections, an interactive phone both, a 36-foot wide geodesic dome, food and drink carts, and much more—both inside and outdoors at Open Signal's media arts facility on Northeast Martin Luther King, Jr. Boulevard.

This event is for makers and curious media fans of all shapes and sizes to interact directly with media art and production. If you're new to Open Signal, you can also learn more about our unique public facilities and educational resources, and how to get involved.

Open Signal members get in free! Find more information about our membership program here:
https://opensignalpdx.org/membership
Festival artists include:

Jodi Darby and Open School middle school students

The experimental media artists from Open Signal's 2018-19 New Media Fellowship:
- May Cat
- Jaleesa Johnston
- Sharita Towne
- Lynn Yarne
- Jen Tam
- Tabitha Nikolai

There are also two paid workshops taking place during Open Signal Fest, and the workshop fees include full festival admission:
12:00pm - 2:00pm: Performance Through the Lens with Jaleesa Johnston
2:30pm - 4:30pm: Virtual Bob Ross with Tabitha Nikolai

Live music from:
- DJMyrie
- DJ Chuckk Pasta
- Autonomuse
- The Social Stomach
- Midwest Nice

And comedy from:
- Laura Anne Whitley
- Ashley Padron
- Stephanie Patricio
- Melody Awesomazing
You will also be able to see these media installations onsite all day:

- An Open Signal community micro-cinema, showing the works of our producers

- Sharita Towne's "Untitled (Black Wanderings, a work in progress)

Two installations from artist Jodi Darby & the students of
Open School:

- An interactive storytelling telephone booth titled "HELLO, VOYAGER / Futel Telephone Booth," and

- A video projection inside a geodesic dome titled "PLANETARIUM," provided by Dotdotdash with support from Savory Lighting Design.
Food and drinks will be available from Bochi Truck and MexiRican PDX, respectively.

Parking will be available across the street at DaVita Kidney Care, located at 2737 NE Martin Luther King Jr Blvd.
Open Signal Fest is supported by mediaThe Foundation and the Oregon Community Foundation
Dates
Aug 10
Saturday
12:00pm – 8:00pm
Location
Open Signal, Portland Community Media Center
2766 NE Martin Luther King Jr Blvd
Portland, OR 97212
Get Directions
Policies
For More Information
For general information or directions to our space, please contact our front desk at (503) 288-1515 or info [at] opensignalpdx.org.
Getting Here
Open Signal is located off the #6 or #4 bus line. If you are driving to Open Signal, we have a parking lot located on NE Graham. Our main entrance is located on NE Graham off of NE MLK.
Refund Policies for Events
You must cancel up to 72 hours in advance to receive a full refund. There will be no refunds or transfers if you cancel with less than three days notice or fail to show up.
Open Signal is a Safe Space
Open Signal is committed to providing an inclusive and welcoming environment for the community. Open Signal does not and will not discriminate on the basis of race, color, religion (creed), gender, gender expression, age, national origin (ancestry), disability, marital status, sexual orientation, or military status, in any of its activities or operations, and we ask that you do the same when you attend our workshops and events.
Open Signal is fully wheelchair-accessible. Reasonable accommodations may be made upon request.