New Media Fellow Exhibition: Laura Medina
Recordar es Construir: Walking through a memory garden, do you stop to smell the flowers?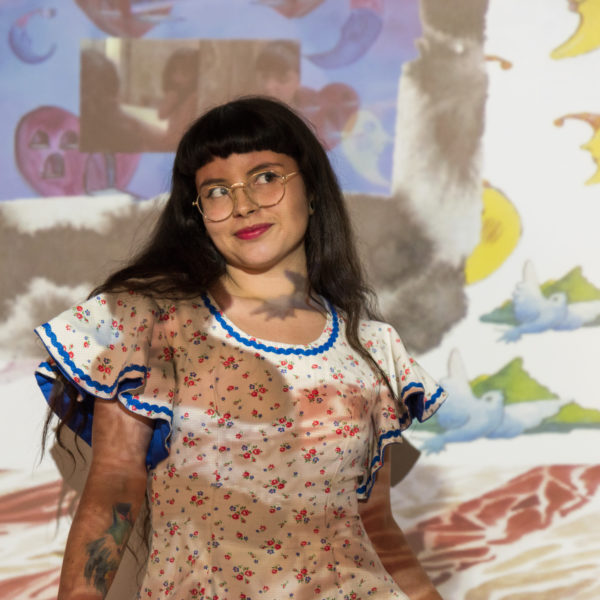 A virtual show of new work from artist and fall 2019 New Media Fellow Laura Medina.
Recordar es Construir focuses on the reconstruction of memory, images, symbols, and meaning every time we practice remembering. This initial focus allows for connection between the audience and the work, remembering is part of our humanity and how we make sense of our identity. Even though this landscape is specific to my own experience, I wanted to explore themes of uncertainty, longing, love and loss, fragmentation, life and death, and coming of age; essentially the human experience. My experience of growing up Colombian in the US is a constant drive in my work and I aimed to convey the clash of tradition and modernism through my use of analog mediums within a digital space.
My memory landscape holds within a sculpture garden. Each sculpture in the garden functions as a memory container. It is inscribed in its exterior, but when you search inside you will find much more. It is never a linear narrative, but instead an entanglement of thoughts, beliefs, symbols, feelings, and connections. My internal landscape is infinite, it is forever expanding. There is a universe inside all of us, will you search deep inside and tend to yours?
Stay tuned for more information!
---
Laura Camila Medina is an interdisciplinary artist born in Bogota, Colombia. She bases her practice around memory and identity as a response to personal, cultural, and historical research. Her work utilizes a unique combination of traditional mediums within digitally constructed spaces to create immersive visual analogies of cultural hybridity. Medina is inspired by her memories of home, her mother's arepas, and her father's soundtracks. Her work has shown at the Center for Contemporary Art & Culture, PLANETA New York, Wieden + Kennedy, and with the Nat Turner Project. She was awarded the New Media Fellow at Open Signal, Artist in Residence at the Living School of Art, and most recently the IPRC Artists & Writers in Residence Program. She earned her BFA at PNCA and is currently based in Portland, OR.
Dates
Tuesday, Aug 11 12:00am – Wednesday, Sep 30 12:00am
Location
Open Signal, Portland Community Media Center
2766 NE Martin Luther King Jr Blvd
Portland, OR 97212
Get Directions
Policies
For More Information
For general information or directions to our space, please contact our front desk at (503) 288-1515 or info [at] opensignalpdx.org.
Getting Here
Open Signal is located off the #6 or #4 bus line. If you are driving to Open Signal, we have a parking lot located on NE Graham. Our main entrance is located on NE Graham off of NE MLK.
Refund Policies for Events
You must cancel up to 72 hours in advance to receive a full refund. There will be no refunds or transfers if you cancel with less than three days notice or fail to show up.
Open Signal is a Safe Space
Open Signal is committed to providing an inclusive and welcoming environment for the community. Open Signal does not and will not discriminate on the basis of race, color, religion (creed), gender, gender expression, age, national origin (ancestry), disability, marital status, sexual orientation, or military status, in any of its activities or operations, and we ask that you do the same when you attend our workshops and events.
Open Signal is fully wheelchair-accessible. Reasonable accommodations may be made upon request.