Perception
Part of the 2020 Portland Winter Light Festival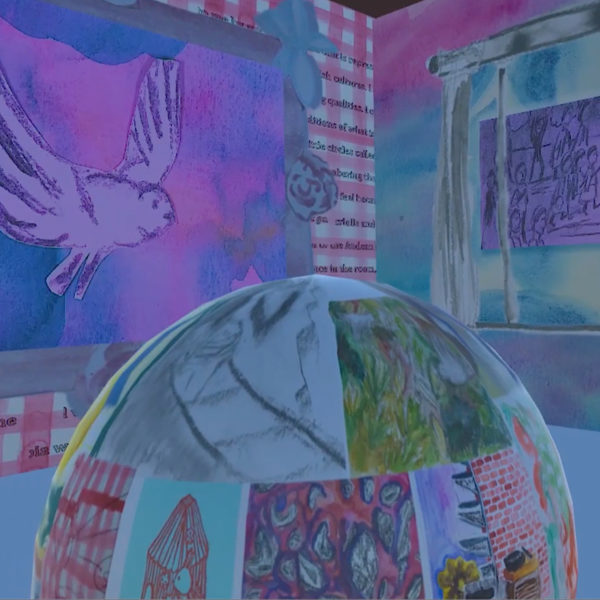 Perception is an immersive media event featuring large-scale video projections and interactive works from New Media Fellows Myles de Bastion, Laura Medina, Jessica Mehta and the artist collective Tres Flechas.
RSVP on Facebook

Note: Our parking lot will be closed for this event.

Open Signal presents a collection of immersive and new media art by our 2019-2020 New Media Fellows as a host site for the upcoming Portland Winter Light Festival. Experience how emerging technologies can be used to rewrite narratives, illuminating alternative ways of seeing, understanding, and experiencing truth.

This event will feature four exhibitions:

---
---
Red/Act by Jessica Mehta, a hybrid project that blends experimental poetry with family archival photos to inspire cultural exchange, information sharing and the opening of discourse regarding the reality of Native Americans in recent history and post-colonial America.
Mehta is the originator of the antipode poetry format, in which poems can be read word by word both forwards and backwards.
---
Candles and Arrows by Tres Flechas, an installation about the altars erected over the last few years of ICE resistance, which are often destroyed by the police. These altars are public displays dedicated to migrants who have passed away due to the cruel and unjust 'deterrence' practices of the current administration.
---
#Seeing Sounds LED Piano by Myles de Bastion, a one-of-a-kind custom-made piano installation wired with digital LED lights programmed to respond to sound vibrations. When played, the piano keys create tones that are analyzed and translated into different light colors and movements.
The piano was created for OMSI as a collaboration between Piano Push Play, CymaSpace and Lucid Design, and was installed to play by the general public at OMSI from September 2015 to January 2016.
---
cosas bonitas que por dentro llevamos by Laura Medina, an experimental animation and video collage evoking themes of memory, home and cultural identity.
Using analog animation techniques and media like charcoal and paint, Medina recreates the ethereal qualities of memories by moving, layering and reconstructing images. This unique combination of analog media and digitally constructed spaces are analogous to her multicultural upbringing in Bogota, Colombia and Orlando, Florida.
---
The event will also feature live glitch visuals by Sarah Turner of Mobile Projection Unit, as well as live projection-mapped visuals by students from Savory Lighting Design's Resolume workshop.
---
Open Signal's immersive media programming is made possible through support from the National Endowment for the Arts and the Jackson Foundation.

Dates
Feb 8
Saturday
7:00pm – 9:00pm
Location
Open Signal, Portland Community Media Center
2766 NE Martin Luther King Jr Blvd
Portland, OR 97212
Get Directions
Policies
For More Information
For general information or directions to our space, please contact our front desk at (503) 288-1515 or info [at] opensignalpdx.org.
Getting Here
Open Signal is located off the #6 or #4 bus line. If you are driving to Open Signal, we have a parking lot located on NE Graham. Our main entrance is located on NE Graham off of NE MLK.
Refund Policies for Events
You must cancel up to 72 hours in advance to receive a full refund. There will be no refunds or transfers if you cancel with less than three days notice or fail to show up.
Open Signal is a Safe Space
Open Signal is committed to providing an inclusive and welcoming environment for the community. Open Signal does not and will not discriminate on the basis of race, color, religion (creed), gender, gender expression, age, national origin (ancestry), disability, marital status, sexual orientation, or military status, in any of its activities or operations, and we ask that you do the same when you attend our workshops and events.
Open Signal is fully wheelchair-accessible. Reasonable accommodations may be made upon request.