Signal Share: Community Swap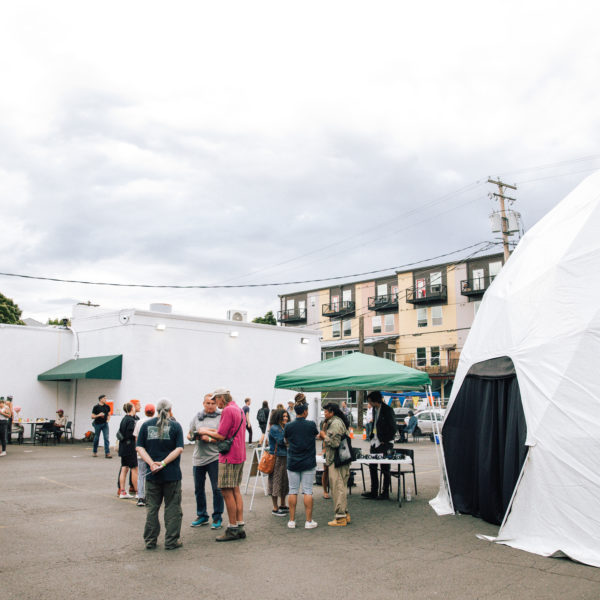 Join us for a community swap in our parking lot. 
Clean out your closets and help your community at the Community Stuff Swap!
Help your community by giving things you no longer need and connecting with one another. Help the environment by reusing things and keeping them out of the landfill.
How it works:
Drop off donations at the Open Signal parking lot from 9am – 1pm. Volunteers will be on hand to accept and sort donations. The giveaway will be from 9am – 2pm. Anyone is welcome to take things for themselves and their families. No donation is required to receive items from the swap. All leftover items will be donated to local charitable organizations. This event is free and open to everyone.
Items we can accept as donations (all items should be clean, gently used, in working order):
Books, DVDs, Clothing (freshly washed, gently used, no stairs/tears/missing buttons or zippers) , Tools (clean, usable), Toys, board games, puzzles (gently used, no broken items or missing pieces), Sports equipment, Kitchenware (dishes, silverware, glasses, cookware, small kitchen appliances in working order), Housewares (freshly washed, gently used bedding, curtains, home décor), Office and school supplies, Pet supplies (clean and gently used), Electronics (phone chargers, power strips; no TVs), Plants, seeds, gardening supplies (clean, usable), Food (fresh produce from garden or items for the Free Fridge), Small furniture (end tables, coffee tables, lamps; no couches, mattresses, or heavy items that cannot be carried by two people), E-waste for recycling by Green Century Recycling (computers, phones, electronics)
(List of items accepted here: https://greencenturyonline.net/electronics-recycling-services/business-services/)
Dates
Jul 16
Saturday
9:00am – 2:00pm
Location
Open Signal, Portland Community Media Center
2766 NE Martin Luther King Jr Blvd
Portland, OR 97212
Get Directions
Policies
Policies
For More Information
Interested in getting involved and utilizing one of our many resources? Start by completing this form and we will connect you with a staff member to get you started: Inquiry Form.
For questions about your registration, please contact our Community Media Advocacy Manager, KatMeow García, via phone at (503) 288 1515 x411 or via email at katmeow [at] opensignalpdx.org.
Community Membership
Join our community! Open Signal's membership program includes absolutely everyone.
This program will not only strengthen our community and deepen your experience as a community member, but it will also help diversify our funding streams, ensuring that our resources will be around to serve Portland for decades to come.
To sign up, make a contribution of at least $5 online.
Open Signal is a Safer Space
Open Signal is committed to providing an inclusive and welcoming environment for the community. Open Signal is a Safer Space for people of color, immigrants, gender non-conforming, low/no income groups, houseless, people with disabilities, linguistically diverse and other marginalized communities who have experienced systemic racism, sexism, classism and/or oppression. We encourage the creation and sharing of content that expresses a wide variety of cultural, social, political and spiritual perspectives. Treating all people with respect and kindness is expected - even if you don't agree with all perspectives.
We require all members of our community to agree to our Safer Space Community Guidelinessafety policies and to be accountable for the impact of their actions on others who use the space. Physical and verbal abuse will not be tolerated. All threats will be taken seriously, and will result in removal from the facility.
If you have a safety concern to report, please talk to any member of our front desk staff, or complete our online form at bit.ly/opensignalsafetyconcern.
Accommodation Requests
At Open Signal, we work hard to keep our space accessible, inclusive and collaborative. We have a no-tolerance policy for discrimination, harassment and violence.
To request an accommodation please complete this form or contact an Open Signal staff member for assistance: info [at] opensignalpdx.org or (503) 288-1515.
While some accommodation needs may not be within our means to meet at this time, we do our absolute best to accommodate individual needs for equitable access to our facilities whenever possible.