DATE CHANGED: Support Open Signal at City Hall!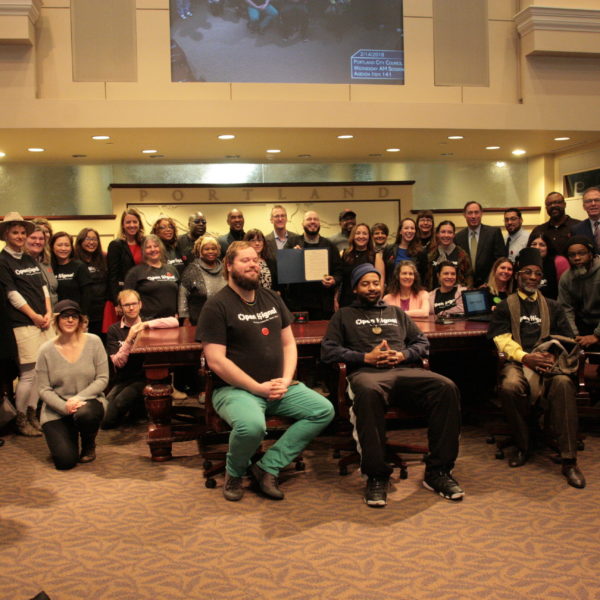 Join us at City Hall as Open Signal and friends present to show our elected officials that community media matters!
Please note: This event has been rescheduled — we present on Wednesday, June 28th from 10:30am to 11:00am (changed from June 21st).
Open Signal and friends are presenting in front of City Council this month in support of renewing our grant agreement with the City of Portland.
If you benefit from access to Open Signal's studios, classes or equipment, we ask that you come cheer us on in the audience. We want City Council to know that people in the community believe in what we do and benefit from our services. Join us at City Hall to show our elected officials that community media is an important element of Portland's creative ecosystem!
We are scheduled to present from 10:30am - 11:00am at Portland City Hall's Council Chambers (2nd floor), located at 1221 SW 4th Avenue and Jefferson in downtown Portland. Please arrive by 10:15am to ensure you get a seat. Thank you for your support!
Dates
Jun 28
Wednesday
10:30am – 11:00am
Location
Portland City Hall
1221 SW 4th Ave
Portland, OR 97204
Get Directions
Policies
For More Information

Interested in getting involved and utilizing one of our many resources? Start by completing this form and we will connect you with a staff member to get you started: Inquiry Form.
For questions about your registration, please contact our Director of Community Media, KatMeow García, via phone at (503) 288 1515 x411 or via email at katmeow [at] opensignalpdx.org.
Community Membership
Join our community! Open Signal's membership program includes absolutely everyone.
This program will not only strengthen our community and deepen your experience as a community member, but it will also help diversify our funding streams, ensuring that our resources will be around to serve Portland for decades to come.
To sign up, make a contribution of at least $5 online.
Open Signal is a Safer Space
Open Signal is committed to providing an inclusive and welcoming environment for the community. Open Signal is a Safer Space for people of color, immigrants, gender non-conforming, low/no income groups, houseless, people with disabilities, linguistically diverse and other marginalized communities who have experienced systemic racism, sexism, classism and/or oppression. We encourage the creation and sharing of content that expresses a wide variety of cultural, social, political and spiritual perspectives. Treating all people with respect and kindness is expected - even if you don't agree with all perspectives.
We require all members of our community to agree to our Safer Space Community Guidelines and to be accountable for the impact of their actions on others who use the space. Physical and verbal abuse will not be tolerated. All threats will be taken seriously, and will result in removal from the facility.
If you have a safety concern to report, please talk to any member of our front desk staff, or complete our online form at bit.ly/opensignalsafetyconcern.
Accessibility Requests
Open Signal is committed to hosting meetings, events and gatherings that are accessible and inclusive. Ensuring that all members of our community can fully engage in our activities not only benefits the individual, but  strengthens our community as a whole. 
We will do our best to accommodate your needs for equitable access to our facilities, however some requests may not be within our means to meet at this time.
Please submit your request using this form: Accessibility Request Form.