Meet Our Leadership Team, Part 1
February 02, 2021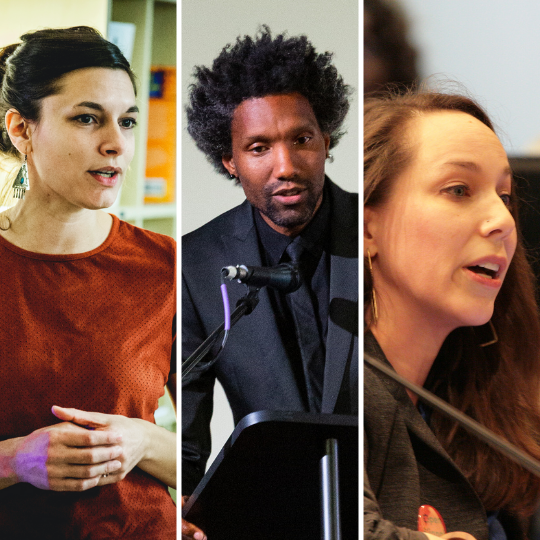 Last November, our Executive Director Justen Harn transitioned out of the organization after five years of service. As of now, our six-person leadership team is acting as our interim central decision-making body. You can read more about this decision in a blog post by Open Signal Board President Karim Hassanein.
Many of you who have been part of the Open Signal community may know the folks on our Leadership Team well, or at least have interacted with them when visiting our space. To better understand who is steering this ship as we take off into 2021, we'd like to take a moment to better introduce them — their backgrounds, inspirations and hopes for the future of Open Signal. In this post, we'll hear from Elisa Barrios, Director of Equity; Ifanyi Bell, Open Signal Labs Executive Producer; and Rebecca Burrell, Director of Strategy.
Elisa Barrios, Director of Equity:
"As the Director of Equity and Co-Chair of Open Signal's Equity Committee, I am responsible for coordinating activities and trainings focused on equity, diversity and digital inclusion for staff, as well as for Open Signal community members. Through trauma-informed and culturally responsive practices, I am dedicated to ensuring equitable access to resources for communities who have been marginalized and are disproportionately served in the mainstream media industry.
I will be serving as the liaison for Open Signal support with any correspondence between the community and volunteer/producer needs. Additionally I will be the main point of contact for the city for communication regarding our efforts regarding digital inclusion and equity work. I am additionally a part of our HR team and support the staff and organization with all HR related concerns/needs/policies.
I am feeling most optimistic about our opportunity to build on the momentum of the world being fueled to make a change towards a more equitable future. This means prioritizing our resources for those who need them the most. As a storytelling and media organization, we should start to also see a shift in a reflection of who is telling the stories and who they are about.
I think we will leave behind some of our hesitancy to try to be too many things at once, which sometimes caused us to stunt our momentum in one direction or another. We are an organization made up of so many talented people and so much legacy knowledge and creativity. I think we will bring that talent with us into the future with more room for collaborative decision making, while also balancing what is best for our community."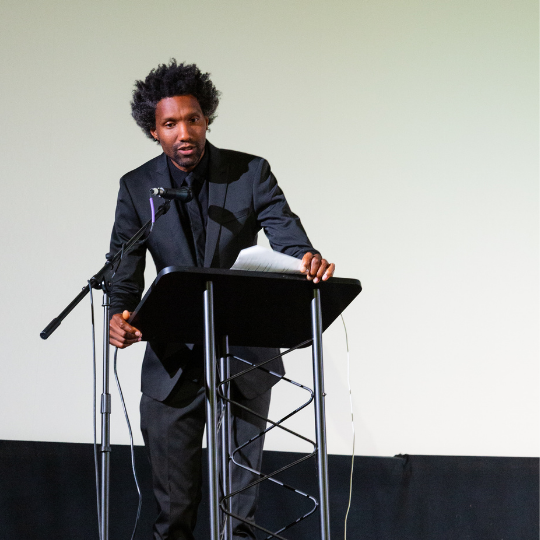 Ifanyi Bell, Open Signal Labs Executive Producer:
"I lead Open Signal Labs, a content studio and social impact incubator that gathers professional creatives, Open Signal producers and community members to tell stories of social and cultural relevance. My focus is on proving radical support to Black artists who have historically been alienated and isolated from participation in mainstream creative networks, and have a desire to share their work with the world.
What inspired me to create Labs was a personal investment in Black creatives having the support they need to advance their goals in Filmmaking and in the process, demonstrate the unique value that the resulting work continues to have on the art form.
My role in this transition is to ensure that this vision for Labs remains whole and is strengthened through its solidarity with Open Signal and the broader community. The world is a better place through the at-will participation of all who choose to contribute to the foundational fabric of the art itself. Now, more than ever, I see that more people are internalizing the value of the creative whole.
Open Signal is in a unique position to leave behind conventional ideas about how an organization does business, and has the opportunity to carry forward the beginnings of a vision that can pave the way for others to follow."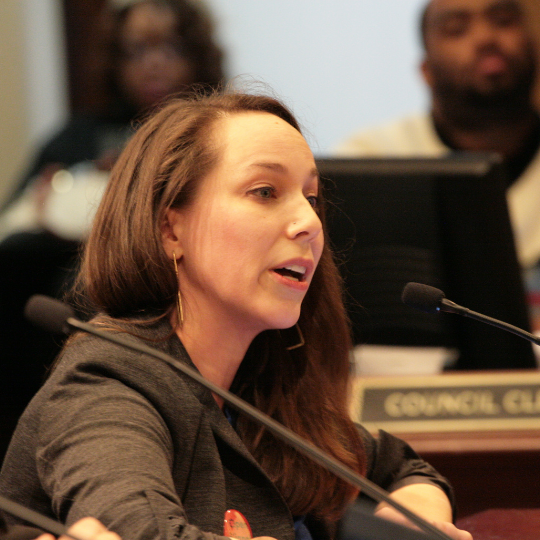 Rebecca Burrell, Director of Strategy:
"I was hired at Open Signal in 2016 to lead external communications and to build a fundraising program from the ground up. I do all this work with a vision of helping this organization grow to be a racial equity-driven nonprofit that takes risks.
With our new shared leadership, I now also currently lead our relationship with Portland City Council, the City's Office of Community Technology and the Mt. Hood Cable Regulatory Commission. I also work closely with our board of directors, along with Elisa Barrios. I personally hope to provide my teammates with enthusiasm about the work, excitement about possibilities, as well as stability and thoughtful planning.
I am inspired by the new generation of nonprofit organizations around the country that deemphasize hierarchy and formality while emphasizing care for self and for community — organizations that address race and intersectionality head on. I feel like we are contributing to that conversation in our own way and I am motivated to keep challenging assumptions about how nonprofits should operate. I want to make this sector sustainable for all of us to keep working and dreaming for many years.
I am beyond thrilled about our interim shared leadership, which I think is genuinely working. Although we don't have all the answers yet, our ability to work together to solve problems and make decisions literally restores my faith in humanity.
I hope we will continue to think big and to constantly reevaluate our work, to make sure we are supporting Portland in the best way we can, while also pushing ourselves and colleagues in the nonprofit field to try new things and to take risks. In the past, we have worked in a bit of a siloed way, and I'm looking forward to collaborating deeply, and moving at the speed of trust."
In part two we'll hear from Leslie Yan, Director of Finance; Jamie Plakos, Community Media Director; and Jim Bruce, Director of Information Systems.
To contact our leadership team directly, email directors [at] opensignalpdx.org.
← Return to index