Artist Spotlight: Open Signal Producer & Mediamaker Elijah Hasan
July 25, 2017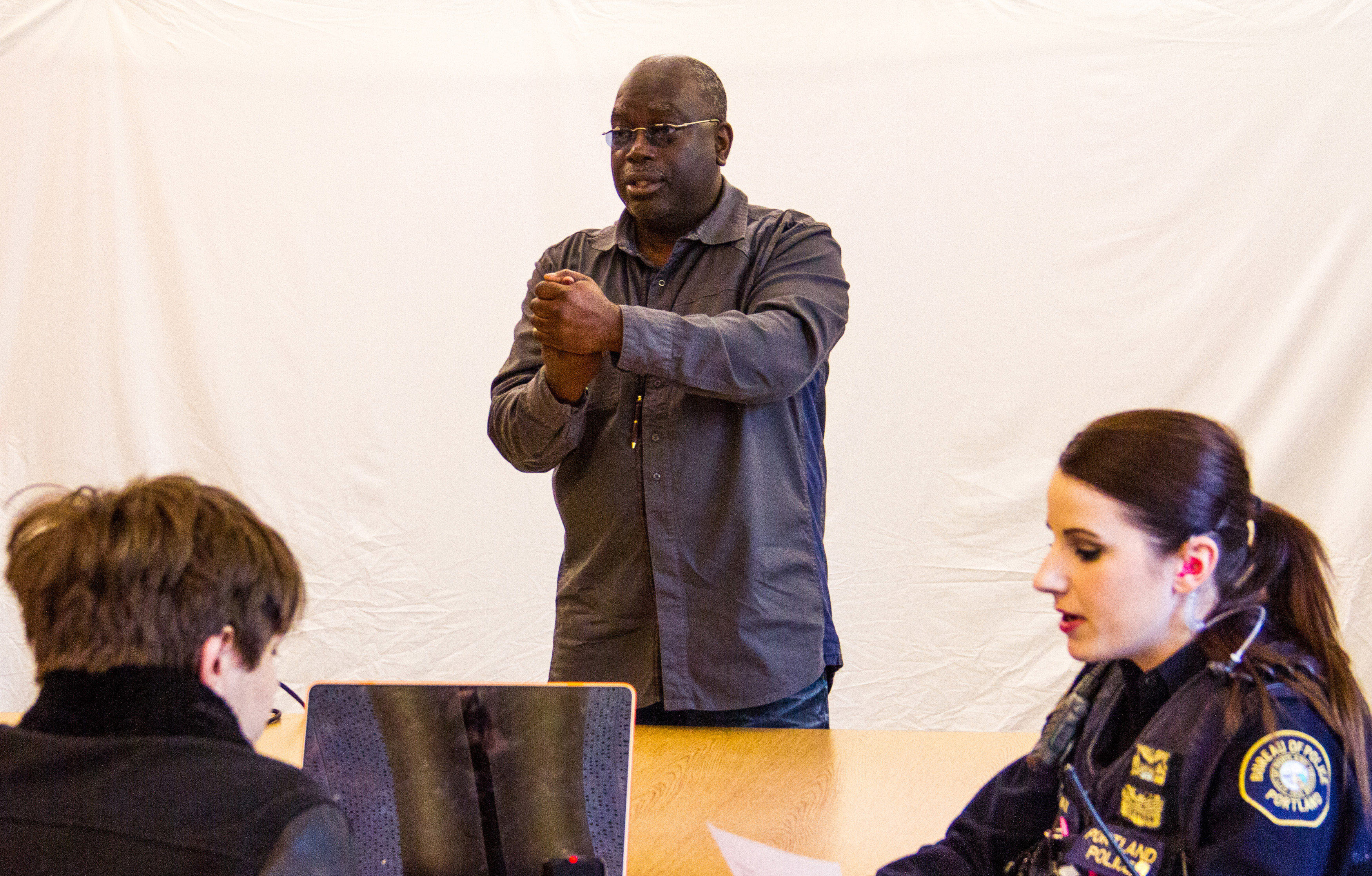 Long-time Open Signal producer Elijah Hasan is an award-winning filmmaker, writer and composer.
For 15 years, he produced the cable access show "Real Sessions," and he also teaches classes on video technology, 3-D animation and photography to middle and high school students in Northeast Portland.
Elijah's installation "12 Degrees Black," which explores themes of race, place and social consciousness, was presented last month by the Regional Arts & Culture Council (RACC) in the Portland Building exhibition space.
This month, his installation "What Connects Us" will open at Open Signal's upcoming Block Party on Saturday, August 26.
In keeping with our current Media Education theme, "Power of the Media," "What Connects Us" takes media art with social impact to the forefront.
Created during Elijah's residency last May at Open School North, "What Connects Us" brought together middle school students and officers from the Portland Police Bureau for a series of interviews and photography portraits, in which each artist made gestures toward directions of their choice.

Accompanied by quotes from the interviews and assembled side by side, atop and below, the final arrangement of these words and faces provides visual evidence of how all of these unique individuals are connected to their broader community.
Curious to learn more about "What Connects Us," we recently interviewed Elijah about the project.
Please describe the residency you did at Open School North this May. What inspired you to do it?
The artist residency that I completed at Open School North was a project where I invited officers from the Portland Police Department to work with students as artists.
My inspiration to do this project was sparked by the barrage of police killings of unarmed women and men of color.
I wondered what I could do more than protesting and short of armed rebellion that could help to engineer the future I want to see. I came up with the "What Connects Us" art project.
Tell me about your background as a social artist/mediamaker. What kind of work do you do, how does Open Signal help you do it and how did this residency fit in with that?
I'm not sure that my background as a social artist or mediamaker actually exists in a way that I could put a finger on.
For me, it was never an intention to wear that hat. I simply consider myself an artist. I create what inspires me to move in a certain direction.
I prefer to consider myself a conscious human being and it is only fitting that my work would represent as such. I am extremely thankful for that blessing.
I am a multi-disciplinary artist and find myself working with a variety of individuals in many different ways.
Open Signal is an invaluable resource in regards to creating high quality media content as well as being a vehicle to getting a good number of eyeballs and ears on my work.
I think this residency is a great example of how Open Signal benefits the work I do.
Open Signal facilitated the relationship between Open School North and the art project that I brought there.
They also provided the laptop and software that I curated the exhibit with and they are providing a space for the exhibit to be viewed by the participants and the public.
What was the goal of your project at Open School North? How did it unfold?
I think that the experiences that both the young people and the officers came away with are transformative.
The reality is that, for most of the participants, this is their first police/community experience that doesn't involve some sort of confrontation.
The participants come away conscious about the things that connect them rather than what divides them. These were the exact experiences I observed at the conclusion of this residency.
Can you talk about what you'd like people to take away from the project (participants and audience members)?
I would hope that what people take away from this project is that it is within our power to create the world we want to see.
I hear this project will be showcased at the August Open House? What form will that take?
There will be an exhibit of physical works that the participants created installed on the interior walls at Open Signal.
There is also a documentary film which covers the conception and implementation of the "What Connects Us" project.
We may not have the space to screen it with all the festivities planned for the event in August, in which case it may have to screen on a different night.
What's next for you?
I'm just going to keep moving and shaking as an artist toward the things that inspire me and that are hopefully dear to my heart.
In regards to the "What Connects Us" project, I'm looking to expand this project into every school that will have us.
Also, Episode 2 of "Native Take" (a show I produce) will be dropping soon.
Keep creating.

You can experience "What Connects Us" at Open Signal's Block Party and for the rest of September in Open Signal's lobby.
← Return to index