Future Forum Cohort to Present Work at .::Radiate::.
January 26, 2018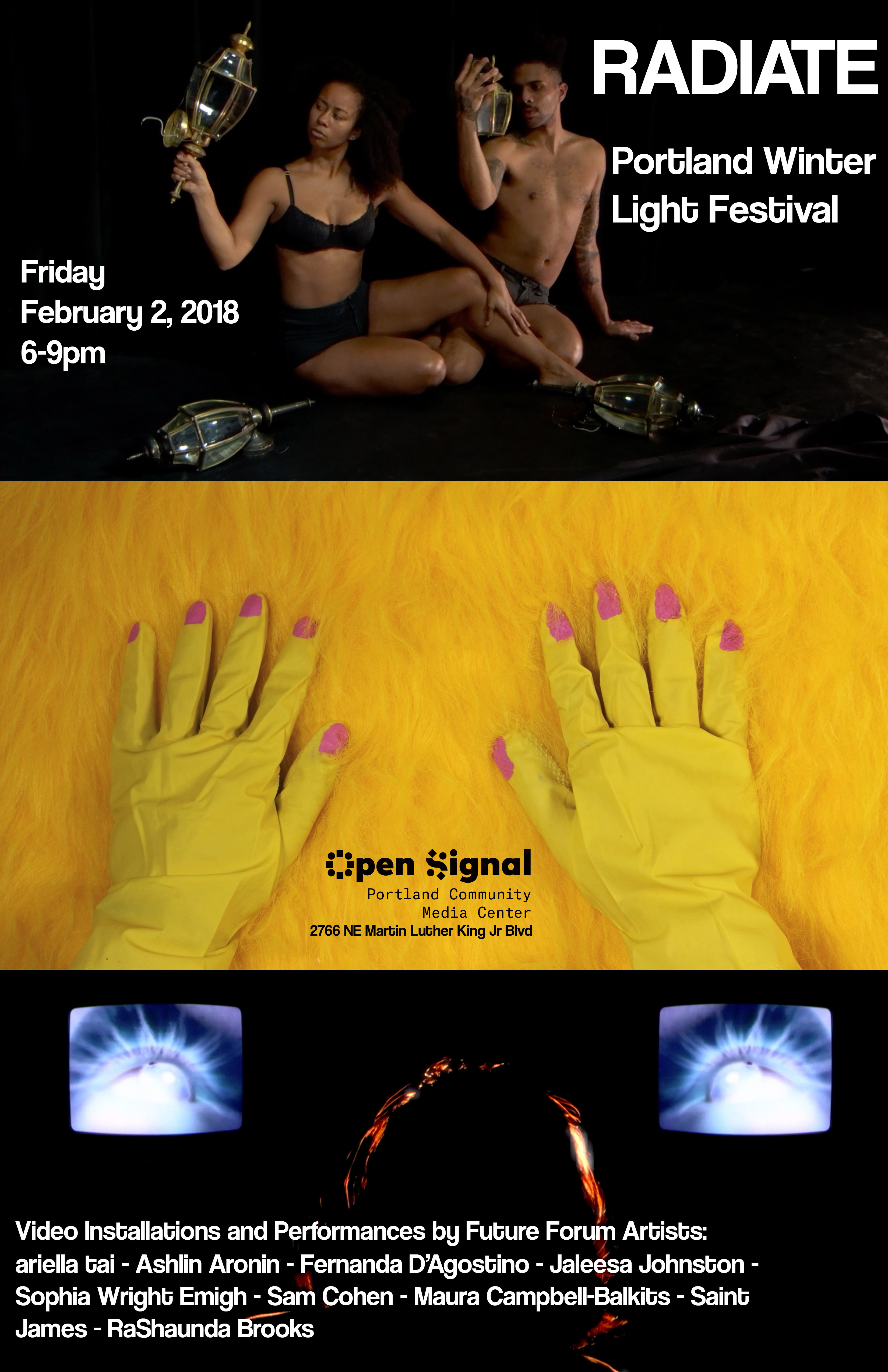 Artists from Open Signal's Future Forum program will debut new work during next week's .::Radiate::. showcase, taking place during the Portland Winter Light Festival.

Descriptions of the works are as follows:

Fernanda D'Agostino, Sophia Emigh, Jaleesa Johnston
This 4-channel audio-visual performance/installation will activate Studio A at Open Signal with live performances by Jaleesa Johnston and Sophia Emigh and live video projections by Fernanda D'Agostino on two translucent scrims. Audience members will walk into the studio from one corner, free to interact with the performance, projections, and sound in whatever way they feel compelled.
During their short, looped, individual performance rituals, the actions of the performers will be reinforced by overlays of video projections that add historic context and hint at the ongoing saga of displaced people and the traumatic events of our times. The video feed will mix live performance with pre-recorded footage from rehearsals and historical footage from Jaleesa & Sophia's lineages/related footage. Between looped repetitions of their rituals, Jaleesa and Sophia will move into a shared central space in the middle of the room and interact with a 7-foot aluminum bowl filled with illuminated water - before they begin the cycle again in the opposite performance space.
Immersive audio (sound by Saint James & Hillary Murphy) and video projections place both viewers and performers in the center of these events. Our goal is to use Isadora to map video imagery of performers and audience members bodies into the projections erasing the distance we usually create between ourselves and those directly impacted. Bodies temporarily imprinted with these images may experience themselves as vulnerable to the same forces of history, or as complicit. We hope to stimulate in viewers an embodied empathy.
Overall our performances center on metabolizing embodied, generational trauma, body memory, the displacement of vulnerable populations, and coming into presence and simplicity when inundated with elements of a fractured culture/broken lineage. Repetitive movements suggest both inescapable acts of survival and the rituals of healing.
Ashlin Aronin
Smile is a mobile smile donation center in a trailer. The donation process is easy and open to anyone! Volunteers will help you fill out paperwork and donate smiles via a custom iPad application. Happy, angry, surprised, confused and disgusted smiles are accepted*! Donations are displayed in the parking lot for everyone to enjoy.
* Unfortunately, we are not seeking frowns or other expressions at this time.
Maura Campbell-Balkits
*blink* is a three-channel looped video and sound installation. A spasmodic symphony of movement, clicks, beeps, light and quick cuts---the piece mimics the psychological process of embodying generational trauma and finding ways to release it. Features performances by Sophia Emigh and Jaleesa Johnston.
Sam Cohen
The butterflies are back , fluttering about , and I can't convince them to stop. Why do we live in fear of lack of success and how can we celebrate rather than overlook it? Humiliation, fragmented failures, and accelerating neurosis are the many components of "Funnel Vision." I use video to procrastinate failure through mindless activities such as hair brushing, cutting potatoes, watering plants,petting soft objects , and counting- where these activities present themselves as safe meditative spaces and coping mechanisms. I use costume to disguise vulnerability and use animation to reveal it. Animation depicts the abstract internal and external bodily activity as it processes anxiety attacks such as fading, spotting, flashing light,timing, focusing and refocusing. Humor is incorporated through color , sound , performance, and objects- a neurotic tragicomedy to immerse viewers into an idiosyncratic power struggle.
ariella tai
"safehouse" is an uncanny and perhaps unnoticed intervention in the Winter Lights festival. using small-screen video installations obscured/contained in unobtrusively located light fixtures nested in other exhibits, the project meditates on the roles that illumination plays in safety, security and escape for queered black bodies.
"safehouse" is a project intended to disrupt the viewer's sense of comfort, privacy and assumption. it is intended to serve as an avenue through which to complicate our perceptions of the more benign or utilitarian iterations of lit objects, illumination and light as a transfixing spectacle.

RSVP for .::Radiate::. via Eventbrite here.
← Return to index