Win Prizes with the Last #OpenSignalCounts Raffle — July 31st through August 14th
August 03, 2020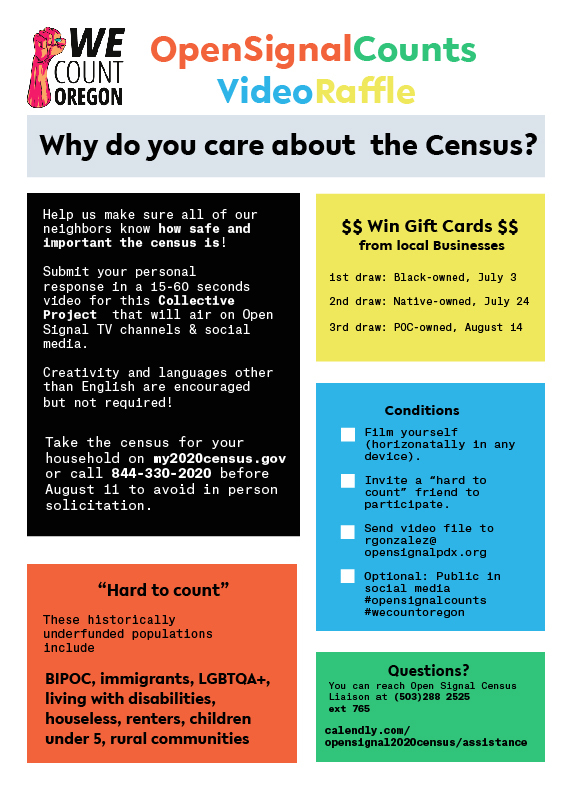 We are holding a video raffle in partnership with We Count Oregon that is also a collaborative video project!
Film a 15- to 60-second video on any device explaining why the Census is important to you and enter a raffle to win prizes from local Latinx-owned businesses. If you have a smartphone or a Zoom account, contact rgonzalez@opensignalpdx.org for assistance on making your video.
The 6 winners' videos will air on our social media and all submissions will air on our cable channels.
All are welcome to participate!
Languages other than English wanted! Send a transcript of the content if it is in a language other than Spanish.
Black, Indigenous, people of color, parents with children under 5, LGBTQA+, rural communities, folx living with disabilities and/or those who are houseless are encouraged to apply for a chance to win:
---
---
CONDITIONS
1. Take the census online, on the phone BEFORE August 11 to avoid any unwanted solicitation.
2. Send in a video. More than one video submission does not count towards more chances to win. Creativity in your video is welcomed but not required! Showing your face is what emboldens hesitant census takers so they can see themselves represented by you. When you are done send it to rgonzalez@opensignalpdx.org By THURSDAY AUGUST 13th, 5:00 pm. We also accept Dropbox, Google Drive or Wetransfer. You may share your video on social media with the hashtag #opensignalcounts and tag @wecountoregon @opensignalpdx BUT social media submission does not count on its own.
3. SHARE the opportunity with your friends, family or fellow content creators. Calling, texting or emailing is encouraged instead of social media tagging to protect the privacy of our community members.
You have until the end of our Census 101 class to enter!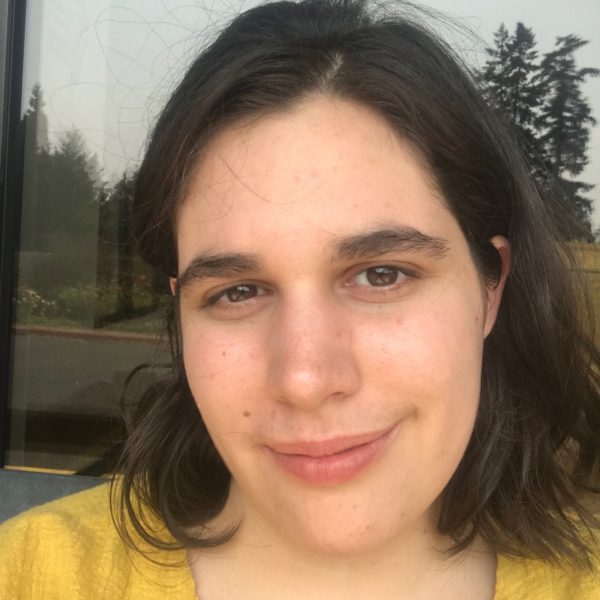 Rebeca Alamo Gonzalez
Census Assistant Liaison
rgonzalez [at] opensignalpdx.org
(503) 288-1515 x765
I work with Open Signal's Equity Department and We Count Oregon to educate and support our community about the 2020 Census. As an asylee from Venezuela married into an indigenous Mi'kmaq family, this is a mission I deeply care about, since my family and I fall under the Census' definition of "hard-to-count populations." 
When I am not furthering We Count Oregon's mission, I exercise my passion for empowering underrepresented and misrepresented communities as a screenwriter and screenplay analyst for WeScreenplay, as well as judging submissions for local film festivals like the Portland International Film Festival and the Portland Film Festival.
← Return to index