Press Release: Open Signal Fest Celebrates Media Arts on August 10
July 10, 2019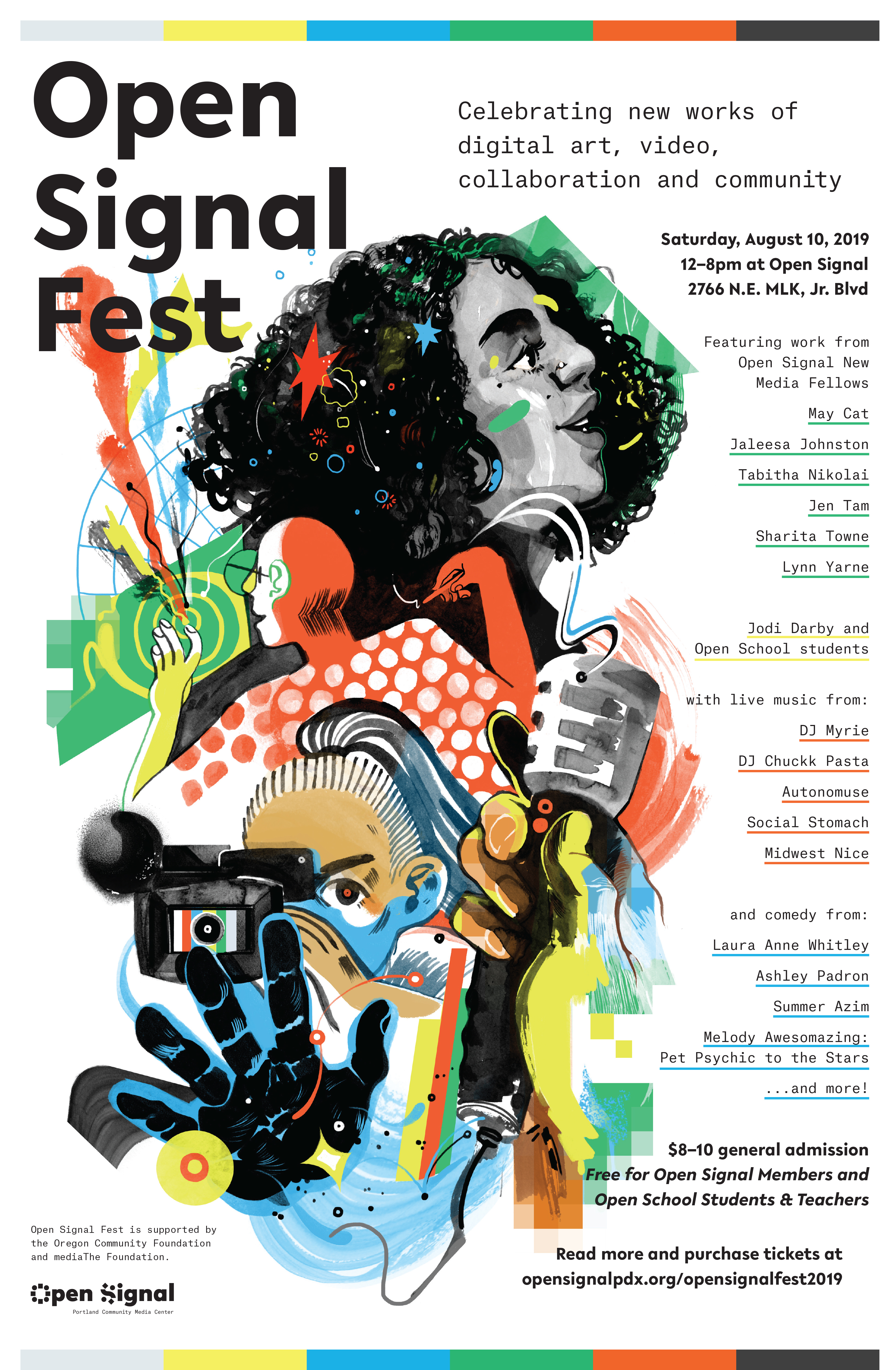 Open Signal Fest on August 10 is Zenith of Summer Media Arts Programming


Open Signal Fest
Saturday, August 10, noon - 8pm
Open Signal: Portland Community Media Center
2766 NE Martin Luther King, Jr. Blvd., Portland, OR 97212
Tickets: $8-10 | Free for Open Signal Members and Open School Students & Teachers
Read event details and purchase tickets at opensignalpdx.org/opensignalfest2019

PORTLAND, OR. - July 10, 2019 – This summer, Open Signal presents to the community one-of-a-kind media arts events, capped by Open Signal Fest, a day-long celebratory explosion of media arts and community on Saturday, August 10.
From noon to 8pm, hundreds of Portlanders will gather for live performances, local bands, comedy, media workshops, large-scale video projections, an interactive phone both, a 36-foot wide geodesic dome, food and drink carts, and much more—both inside and outdoors at Open Signal's media arts facility on Northeast Martin Luther King, Jr. Boulevard.
This event is for makers and curious media fans of all shapes and sizes to interact directly with media art and production. The festival showcases Open Signal's unique programs, including the New Media Fellowship, a residency program for experimental media artists; a partnership with Open School, a nonprofit in East Portland for students who need an alternative to the public school systems; and ongoing services to help hundreds of Portlanders each year create and broadcast their media productions on five local cable channels.
"Open Signal Fest is the best conceivable way for Portlanders to learn more about the huge media resources we provide to the community and how we connect technology, creative exploration and social impact," said Taylor Neitzke, Open Signal's Director of Programs. "We think your mind will be blown by what you will see and hear at this event!"
Read event details and purchase tickets at opensignalpdx.org/opensignalfest2019
---


FULL LISTING OF OPEN SIGNAL FEST EVENTS


Ticketed Workshops
Fee for these workshops includes festival admission
Noon-2pm
$25, includes festival admission
Open Signal New Media Fellow Jaleesa Johnston teaches a movement-based workshop for the camera with analog video equipment and techniques.
2:30-5:30pm
$25, includes festival admission
Join Open Signal New Media Fellow Tabitha Nikolai for a Unity 3D workshop for beginners, where you can learn to create your own digital 3D environment.
Live Art & Music Performances
All below events are included with the festival admission

Ask An Auntie: A Portland Historic Nihonmachi/Chinatown Human Library
12:30-2:30pm
Get schooled by four Asian American Aunties, in a conversation organized by Open Signal New Media Fellow Lynn Yarne.

DJ Myrie and DJ Chuckk Pasta
Noon-4pm
Enjoy live music in the Open Signal parking lot, while you enjoy food and drinks.

Semiotics of a Thai Kitchen
4-5pm
A livestream workshop performance that captures the tools, social systems, and tropes of performative hospitality inside the art of constructing the globalized Thai food, by New Media Fellow May Cat.

House Show
5-8pm
A showcase curated by New Media Fellow Jen Tam, features comedy from Laura Anne Whitley, Summer Azim, Ashley Padron, Melody Awesomazing: Pet Psychic to the Stars; plus music from the Social Stomach, Midwest Nice, and Autonomuse.


Installations
All below events are included with the festival admission

Untitled (Black Wanderings, a work in progress)
Noon - 8pm
New Media Fellow Sharita Towne presents a video installation inspired by "Black people dreaming, leaving and moving below one sky to another. By force, by choice, a joyful hardship in their hearts. Flickering light. The warm timbre of voice, outspoken or in reverie."

Planetarium
Noon - 8pm
Open School student projects transformed by artist Jodi Darby will be projected inside a geodesic dome provided by local new media design company dotdotdash, transforming personal narrative into asterisms, constellations and complex cosmologies.

Hello, Voyager / Futel Telephone Booth
Noon - 8pm
Hear audio segments installed in an interactive storytelling telephone booth provided by Futel. Audio work courtesy of a time capsule created by artist Jodi Darby and Open School middle students, inspired by NASA's Voyager Golden Record and the 1876 Century Safe.


Other Festival Events
All below events are included with the festival admission
Open Signal Community Producer Micro-Cinema
Noon - 8pm
Videos created by the diverse Open Signal community producers, showcasing new content broadcast in the past year on Open Signal cable channels.

Film & Video Industry Mixer
3-5pm
Industry professionals get together over drinks to broaden their communities while learning more about Open Signal's mission, studio space, equipment, resources, and professional production work.


Refreshments

MexiRican PDX and Bochi carts
Noon - 8pm
Enjoy piña coladas straight out of a pineapple, stuffed wings, tacos and more in the Open Signal parking lot, courtesy of MexiRican PDX bar cart and Bochi food truck.

Read event details and purchase tickets to the Open Signal Fest at opensignalpdx.org/opensignalfest2019
---

MORE EVENTS AT OPEN SIGNAL THIS SUMMER

Intro to Unity
$135
4 sessions: July 14, 15, 21, 22, 6-9pm
Have you ever wanted to design a video game, create a world in virtual reality or experiment with 3D models? With Unity, all of these are within your reach.

House Show, an exhibition by New Media Fellow Jen Tam
Monday, July 15 – Saturday, September 7
Opening celebration Wednesday, July 17, 7-9pm
House Show combines video projections, found objects and concert flyers to comment on Portland's house show culture, as well as the city's growing housing crisis.

Open Signal Orientation
Free
July 17, 6-7pm
September 8, 1-2pm
Learn how to join our community with this tour of our facilities! Orientation is the first step all new students must take to begin their media education at Open Signal.

Sound Stage Studio & Screening
$45
July 25, 6-9pm
August 15, 6-9pm
Learn how to use our studio's lighting accessories and projector to make the most of your multi-camera productions or screenings!

Intro to Editing: Adobe Premiere
$75
3 sessions: July 31, August 1, 7, 6-9pm
Learn compelling video editing techniques in this workshop with Premiere, Adobe's renowned software.

Intro to Cinematography
$105
4 sessions: August 2, 16, 23, 30, 6-9pm
This introductory class dives into collaborative storytelling with Open Signal's lights, audio gear and Canon C100 MKII cameras through the creation of a small group production.

Infinitely Possible: Immersive Technology Camp (Grades 9 to 12)
$365
5 sessions: August 12, 13, 14, 15, 16, 10am-2pm
Create virtual reality worlds and 3D animations in this camp for students in grades 9 to 12, held in collaboration with Saturday Academy!

Intro to Editing: Final Cut Pro X
$75
3 sessions: August 14, 21, 28, 6-9pm
Learn the basics of video editing with Apple's Final Cut Pro X, an essential software for new filmmakers!

Intro to Studio
$190
5 sessions: August 15, 21, 22, 28, 29, 6-9pm
Open Signal is the only media arts center in Portland where you can learn how to use a TV studio to broadcast your work! This is your first step.
###
Contact
Yousef Hatlani, Marketing Manager
yousef [at] opensignalpdx.org
(503) 536-7622
← Return to index