Night Lights Launch Party at Open Signal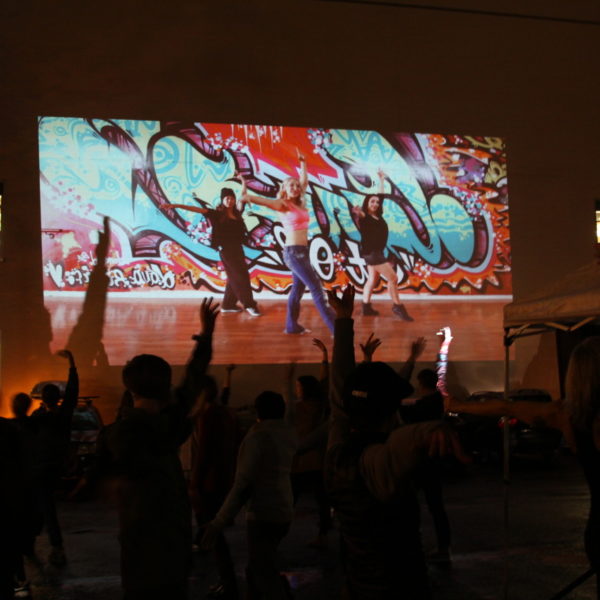 Join Open Signal and the Regional Arts and Culture Council (RACC) for a sneak peek at the upcoming season of Night Lights, featuring video projection work by regional artists.
Open Signal and RACC are kicking off the 2017-2018 season of Night Lights with a special presentation of new work by this year's jury-selected Night Lights artists.
Get a taste of the innovative digital pieces you can expect to see at the First Thursdays of October through April, when the selected artists will showcase their work on the north wall of RACC's downtown offices, as well as onsite at Open Signal.
After the presentation, you're invited to share your own work. We're hosting a Bring Your Own Beamer + Content (BYOB+C) party in Open Signal's parking lot. You bring the video content, we'll provide projectors, electricity, wall space, a DJ and refreshments!
About Night Lights:
Currently in its third year, Night Lights is an ongoing collaboration between Open Signal and the Regional Arts & Culture Council (RACC). Past projects have included large-scale media projections, live multi-disciplinary performances and collective screenings by students and professionals. Learn more at nightlightspdx.tumblr.com/
Dates
Sep 20
Wednesday
7:00pm – 9:30pm
Location
Open Signal, Portland Community Media Center
2766 NE Martin Luther King Jr Blvd
Portland, OR 97212
Get Directions
Policies
For More Information
For general information or directions to our space, please contact our front desk at (503) 288-1515 or info [at] opensignalpdx.org.
Getting Here
Open Signal is located off the #6 or #4 bus line. If you are driving to Open Signal, we have a parking lot located on NE Graham. Our main entrance is located on NE Graham off of NE MLK.
Refund Policies for Events
You must cancel up to 72 hours in advance to receive a full refund. There will be no refunds or transfers if you cancel with less than three days notice or fail to show up.
Open Signal is a Safe Space
Open Signal is committed to providing an inclusive and welcoming environment for the community. Open Signal does not and will not discriminate on the basis of race, color, religion (creed), gender, gender expression, age, national origin (ancestry), disability, marital status, sexual orientation, or military status, in any of its activities or operations, and we ask that you do the same when you attend our workshops and events.
Open Signal is fully wheelchair-accessible. Reasonable accommodations may be made upon request.