Screening: Work by the Summer '23 Cohort!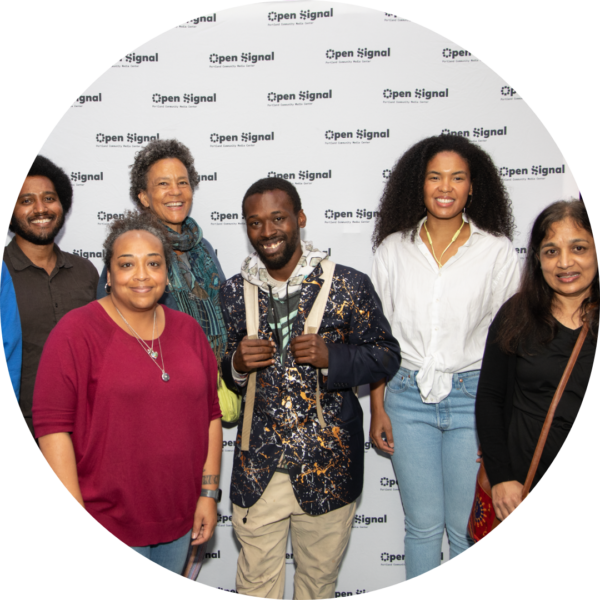 After months of dedication, media makers from the Summer '23 Production Cohort are sharing their work at this screening.
Media makers from the Summer '23 cohort are sharing their work with us at this screening. Join us to celebrate their work and watch projects from Portland's next wave of filmmakers!
Featuring:
Black Economic Collective: Terry Wattley
Black Economic Collective is about closing the gap between financial wealth of black families and other families through resources that our organization shares with the community members. There were major historical events that have contributed to these factors as Black folks were gaining momentum through the banking and Financial industry. There is also a lack of resources in certain areas when it comes to this knowledge and knowing how to manage your money. We will also be highlighting our outreach to the community as well as our youth initiatives through upcoming projects.
Dog and Girl: Masha Mitchell
Work-in-progress of a special bond between a girl and her dog.
Heart Together: Vince, Ben and Hunter Meneses
We want to show families who have experienced divorce and separation how to express feelings and emotions while communicating through music and video. Our target populations are BIPOC and/or rural communities where resources for families are most scarce.
Kitchen: Kiara Walls
Kitchen explores the relationship between hair and intimacy while centering the experiences of Black clientele and natural hair practitioners. The project celebrates stories told by Black voices to archive the oral histories surrounding the physical space, care and intimacy that is cultivated through hair styling. Kitchen will provide artistic form to the processes of this culture by sharing the perspectives of clients and beauticians while recognizing the historical political context surrounding this specific experience.
My Enchanting Castle: Justice Chukka, Pedro Ebenezer, and Daniel Haile
A trailer for Justice Chiedozie Chukwu's journey of academic success as a blind student in Nigeria and the triumphs that followed.
Unlearning to Learn: Beryl McNair
Unlearning to Learn is a reflection of Beryl McNair's time in the production cohort that shaped her and the lessons that made her the empowered creative she is today. Beryl looks forward to using what they have to create future productions focused on educating kids through media. In her own words, " I've had to unlearn things from the past to get to learning."
Portland Catrinas: Mika Martinez
The phrase, my culture is not a costume can be connected with icons, images, and styles throughout Latinx culture. La Calavera Catrina is one of the most recognizable symbols of the Día de Los Muertos holiday – yet many don't know where she originated from or the evolution of her meaning. The project, "The History and Evolution of La Catrina", expands on the representation of Latinx people, while providing an understanding of Mexican history, traditions, and experiences; by sharing authentic cultural expressions around the figure, La Catrina.
The Consent Couch: Jamie Cawelti, Heather Fairchild, David Lee
The Consent Couch discusses topics about relationships, sexuality, and community with intersectional themes like inclusion of LGBT+ issues and polyamory inclusion.
Twerk n Fab: Renise Harrel and Quandray Nelson
Promoting body positivity, inclusive spaces, and free expression in a non-judgmental space.
Dates
Dec 8
Friday
6:00pm – 9:00pm
Location
Open Signal, Portland Community Media Center
2766 NE Martin Luther King Jr Blvd
Portland, OR 97212
Get Directions
Policies
For More Information

Interested in getting involved and utilizing one of our many resources? Start by completing this form and we will connect you with a staff member to get you started: Inquiry Form.
For questions about your registration, please contact our Director of Community Media, KatMeow García, via phone at (503) 288 1515 x411 or via email at katmeow [at] opensignalpdx.org.
Community Membership
Join our community! Open Signal's membership program includes absolutely everyone.
This program will not only strengthen our community and deepen your experience as a community member, but it will also help diversify our funding streams, ensuring that our resources will be around to serve Portland for decades to come.
To sign up, make a contribution of at least $5 online.
Open Signal is a Safer Space
Open Signal is committed to providing an inclusive and welcoming environment for the community. Open Signal is a Safer Space for people of color, immigrants, gender non-conforming, low/no income groups, houseless, people with disabilities, linguistically diverse and other marginalized communities who have experienced systemic racism, sexism, classism and/or oppression. We encourage the creation and sharing of content that expresses a wide variety of cultural, social, political and spiritual perspectives. Treating all people with respect and kindness is expected - even if you don't agree with all perspectives.
We require all members of our community to agree to our Safer Space Community Guidelines and to be accountable for the impact of their actions on others who use the space. Physical and verbal abuse will not be tolerated. All threats will be taken seriously, and will result in removal from the facility.
If you have a safety concern to report, please talk to any member of our front desk staff, or complete our online form at bit.ly/opensignalsafetyconcern.
Accessibility Requests
Open Signal is committed to hosting meetings, events and gatherings that are accessible and inclusive. Ensuring that all members of our community can fully engage in our activities not only benefits the individual, but  strengthens our community as a whole. 
We will do our best to accommodate your needs for equitable access to our facilities, however some requests may not be within our means to meet at this time.
Please submit your request using this form: Accessibility Request Form.