Press Release: Young Men in Custody Share Their Stories Live Online July 9
June 17, 2020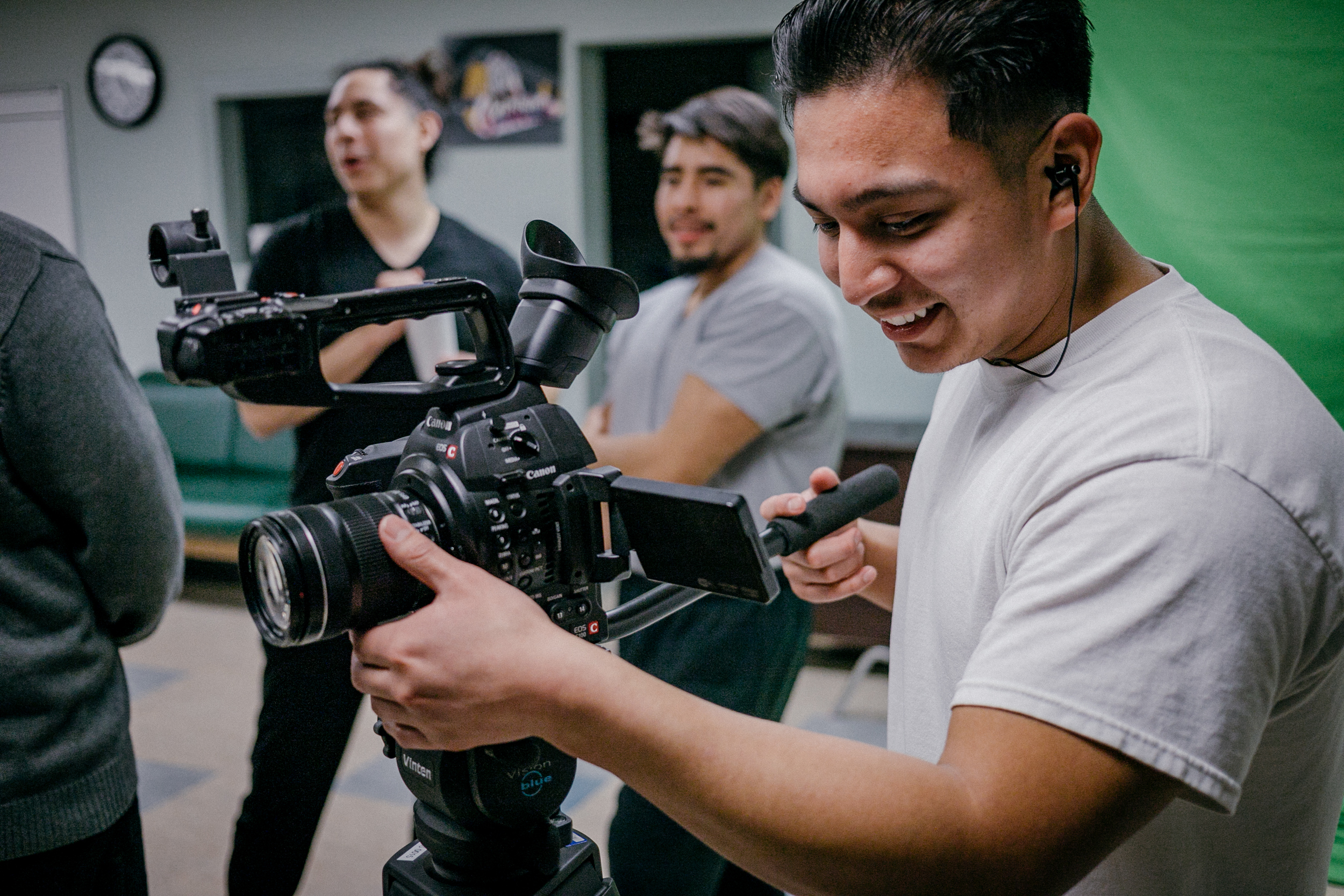 Young Men in Custody Share Their Stories Live Online July 9

New video work is result of a unique partnership between Open Signal and Morpheus Youth Project at the MacLaren Youth Correctional Facility


Echo Productions Watch Party and Q&A
Thursday, July 9, 2020
6pm - Livestream on Facebook, Twitch and YouTube
7pm - Virtual Q&A, RSVP required
Learn more and register.

WOODBURN, ORE. – June 17, 2020 – Twenty-three young men at the MacLaren Youth Correctional Facility will share powerful and creative new media works online next month, including personal narrative, documentary, a breakdance film, sketch comedy and a cooking show.
The youth have been at work since January—and throughout Governor Brown's stay-at-home order—to create their original media pieces. Their efforts were made possible with the support of Echo Productions, a collaboration between Portland-based arts nonprofits Open Signal and Morpheus Youth Project, with support from Hope Partnership, Janus Youth Programs and the Oregon Youth Authority (OYA).
Thursday, July 9, 2020 at 6pm, Open Signal will broadcast the youth's new media work online, followed by a virtual Q&A at 7pm with the youth and program organizers. The work will stream on Open Signal's Facebook, YouTube and Twitch profiles and it will also air on Open Signal's cable channels.
Echo Productions organizers are Open Signal's Taylor Neitzke and Jeff Oliver; and Morpheus Youth Project's Carlos Chavez. These staff facilitated training for the youth on filmmaking and animation skills, as well as acting. They worked on-site at MacLaren until the facility closed its doors to visitors and volunteers in mid-March due to the coronavirus outbreak. While Carlos hosted groups in person at MacLaren during that time, Taylor and Jeff joined four sessions remotely during April and May to complete the program.
"After COVID-19 hit, our program was put on hold because we all had to assess what was going to happen next," said Carlos Chavez. "It was tricky, but we kept it going and I'm excited to reveal the content that we created."
"This was no small feat of logistics, approvals, transporting equipment, and all the minutia of providing workshops in a correctional facility," said Kathleen Fullerton of Hope Partnership. "Youth responded that feeling part of and heard by a broader community is powerful. We look forward to collaborating in the future. "
Jeff Oliver added: "I'm so excited for the rest of the community to see how funny these guys are. This has been my favorite group to work with through Open Signal, because the guys are hilarious and genuine."
Echo Productions first arrived at MacLaren in 2019 with 12 students who created the short film Phoenix Rising, inspired by Joseph M. Marshall III's book The Lakota Way. During nine sessions, students explored visual storytelling, directing, camera operation, sound recording and video editing, as well as how to use green screens. Carlos Chavez taught the students about breakdancing as a means of cultural discourse and communication. Some of the participating youth in 2020 were also involved in 2019.
Learn more about Echo Productions in this blog post by instructor Jeff Oliver, who recalls his experience with the program in 2019, with a link to the youth's completed film. Read and watch here.
The 2020 edition of Echo Productions is supported by the Juan Young Trust, the Pacific Power Foundation and the Herbert A. Templeton Foundation
About the Program Partners
Morpheus Youth Project (MYP) builds healthy communities for young people through arts and culturally responsive activities. Their purpose is to create an accessible, safe and respectful environment that encourages positive growth and provides creative opportunities through the arts and humanities. They believe that by investing in youth through education and encouraging the development of self-awareness, they will provide viable tools and positive options for young people as they mature. Learn more at morpheusyouth.org.
The Hope Partnership is an innovative program between the Oregon Youth Authority (OYA) and Janus Youth Services that brings community connections into a youth corrections system, including activities and workshops in the arts, writing, public speaking, college exchange, life skills and leadership/mentorship opportunities. The program began in 2010 when OYA asked Janus to bring transformative services "inside the fence" at MacLaren. Hope Partnership youth have completed Bachelor of Arts and MBA degrees with assistance from their scholarship program and, last year, one youth became a Soros Fellow. Learn more about Hope Partnership on pages 3-4 of this report.
Oregon Youth Authority (OYA), the state's juvenile justice system, is responsible for youth ages 12 to 24 who commit crimes before age 18 and are either unsuccessful at the county level, need more services than the county can provide, or commit very serious crimes. Through placements in the community or inside secure facilities, OYA holds youth accountable and provides them with opportunities for reformation, education and more. OYA focuses on creating safe, supportive environments that will help youth become responsible, community-minded citizens. Learn more at oregon.gov/OYA/Pages/index.aspx.
###
Contact
Rebecca Burrell, Director of Strategy
Open Signal, Portland Community Media Center
rebecca [at] opensignalpdx.org
(503) 288-1515 x201
← Return to index