Echo Productions Watch Party and Virtual Q&A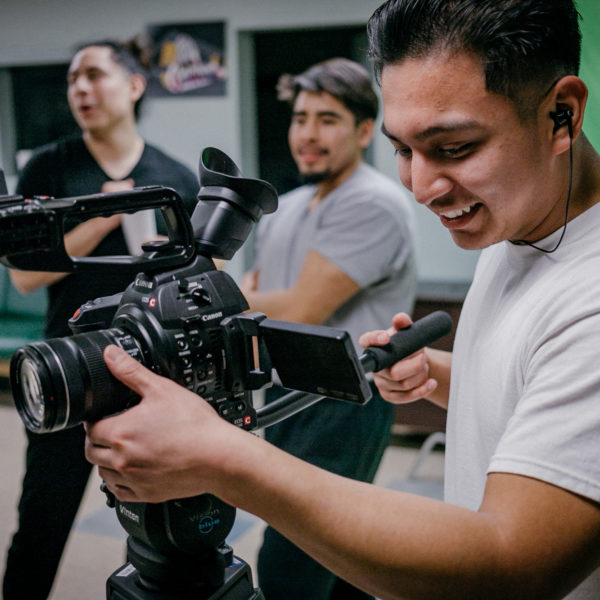 Join us for a two-part event, beginning with a broadcast of new video work from filmmakers based at the MacLaren Youth Correctional Facility, followed by a virtual Q&A with the artists and program organizers.
Please RSVP to this event to receive the Zoom link and login information via email.
New video work made by youth in Echo Productions will be debuted at this special two-part event, which will include a live stream on Open Signal's Facebook, Twitch and YouTube accounts, followed by a virtual Q&A on Zoom with the participants and organizers.
The films were created by young men at the MacLaren Youth Correctional Facility, who have been at work since January—and throughout Governor Brown's stay-at-home order—to create their original media pieces. The program was held in collaboration with Morpheus Youth Project, with support from Hope Partnership, Janus Youth Programs and the Oregon Youth Authority (OYA).
The films showcase powerful and creative new media works, including personal narrative, documentary, a breakdance film, sketch comedy and a cooking show.
Schedule:
6pm - Livestream on Facebook, Twitch and YouTube
7pm - Virtual Q&A (RSVP required below)
Learn more about Echo Productions in this press release, as well as this blog post by instructor Jeff Oliver, who recalls his experience with the program in 2019, including a link to the youth's completed film. Read and watch here.
The 2020 edition of Echo Productions is supported by the Juan Young Trust, the Pacific Power Foundation and the Herbert A. Templeton Foundation.
Dates
Jul 9
Thursday
6:00pm – 8:00pm
Policies
Policies
For More Information
Interested in getting involved and utilizing one of our many resources? Start by completing this form and we will connect you with a staff member to get you started: Inquiry Form.
For questions about your registration, please contact our Community Media Advocacy Manager, KatMeow García, via phone at (503) 288 1515 x411 or via email at katmeow [at] opensignalpdx.org.
Community Membership
Join our community! Open Signal's membership program includes absolutely everyone.
This program will not only strengthen our community and deepen your experience as a community member, but it will also help diversify our funding streams, ensuring that our resources will be around to serve Portland for decades to come.
To sign up, make a contribution of at least $5 online.
Open Signal is a Safer Space
Open Signal is committed to providing an inclusive and welcoming environment for the community. Open Signal is a Safer Space for people of color, immigrants, gender non-conforming, low/no income groups, houseless, people with disabilities, linguistically diverse and other marginalized communities who have experienced systemic racism, sexism, classism and/or oppression. We encourage the creation and sharing of content that expresses a wide variety of cultural, social, political and spiritual perspectives. Treating all people with respect and kindness is expected - even if you don't agree with all perspectives.
We require all members of our community to agree to our Safer Space Community Guidelinessafety policies and to be accountable for the impact of their actions on others who use the space. Physical and verbal abuse will not be tolerated. All threats will be taken seriously, and will result in removal from the facility.
If you have a safety concern to report, please talk to any member of our front desk staff, or complete our online form at bit.ly/opensignalsafetyconcern.
Accommodation Requests
At Open Signal, we work hard to keep our space accessible, inclusive and collaborative. We have a no-tolerance policy for discrimination, harassment and violence.
To request an accommodation please complete this form or contact an Open Signal staff member for assistance: info [at] opensignalpdx.org or (503) 288-1515.
While some accommodation needs may not be within our means to meet at this time, we do our absolute best to accommodate individual needs for equitable access to our facilities whenever possible.