A COVID-19 Update: Embracing a New Normal
May 18, 2020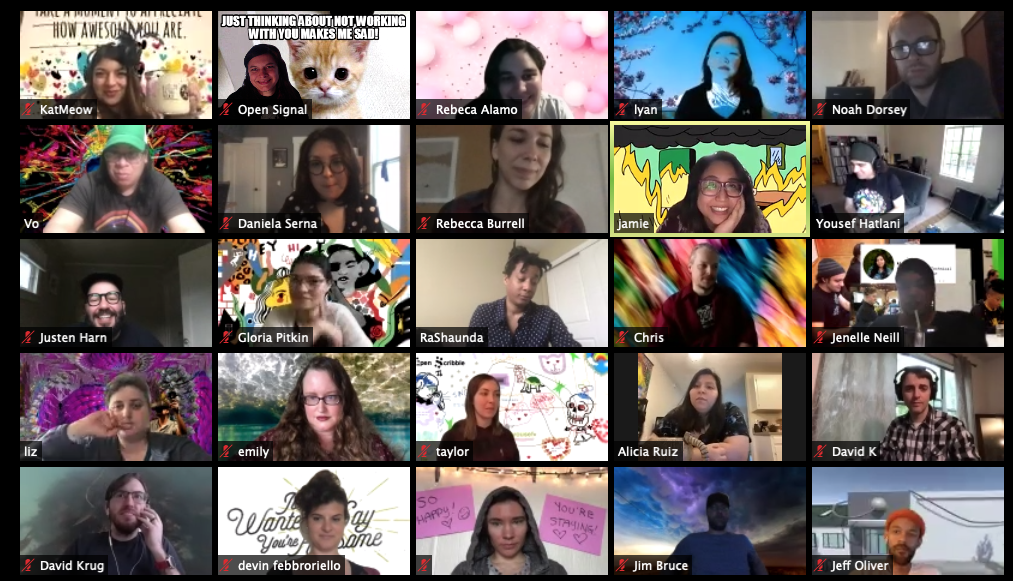 To the Open Signal Community,

We miss seeing your faces!

Open Signal is a convener and it's been hard to cancel much of the work we had planned for this spring. So, we pivot, while staying committed to keeping our staff and community members safe, and doing our civic part to flatten the curve.

We will remain closed until Multnomah County is authorized to reopen. During the closure, staff will continue working from home, remaining fully reachable by phone and email to answer your questions.

Once government restrictions are lifted, we plan to reopen with a slow, phased approach, following new procedures that keep safety in mind. We will provide more information about that plan when we know more about Multnomah County's timeline and what activities are legally allowed.

Our culture is shifting, and we're preparing to embrace a new normal.

In the meantime, we're proud of the unique role media organizations can play in this era of social distancing, spreading vital information and alternative perspectives to the mainstream media, and helping the community connect online.

During our closure, Open Signal has been responding to community needs in these ways:
Our Production Services department has rapidly pivoted to provide top-quality streaming functions to clients, including the City of Portland's remote council and budget meetings and the Urban League's Mayoral Candidates' Forum.


Loaning media gear to key nonprofit partners who are out documenting this historic time, including Outside the Frame, an organization that works with homeless and other marginalized youth.


Continuing to broadcast our cable channels uninterrupted, with significant content specific to COVID-19 on CityNet (Xfinity Channel 30 and 330 (in HD) and CenturyLink Channels 8005 and 8505 (in HD).


Offering free online classes, in partnership with our friends at MetroEast Community Media.


Supporting our members through online gatherings, including a meetup this Saturday, May 23 at 1pm, and providing access to extra online content through our newsletter.


Serving as a remote Census Assistance Center, making sure everyone is counted in the 2020 Census through phone calls, as well as online trainings and convenings.


Convening our new cohort of Open Signal Labs fellows virtually through Zoom, and hosting a public panel this Sunday, May 24 at 11am.


Virtual exhibitions, audio installations and events, delivered on YouTube and other social media.


Continuing our program with youth at MacLaren Youth Correctional Facility through remote means.


Actively engaging our community through Switchboard (now facilitated in partnership with MetroEast) and social media, providing consistent updates about resources and opportunities for those affected by COVID-19.
We know this is a strange and hard time for absolutely everyone, which is why we're continuing to work to best leverage our resources for the benefit of the community. We hope to see you online and we look forward to seeing you in person when it's safe.

Be well. We'll get through this together.

Sincerely,


Justen Harn, Chief Executive Officer
justen [at] opensignalpdx.org
← Return to index