Press Release: Fellowship for Black Filmmakers Begins Second Year
May 15, 2020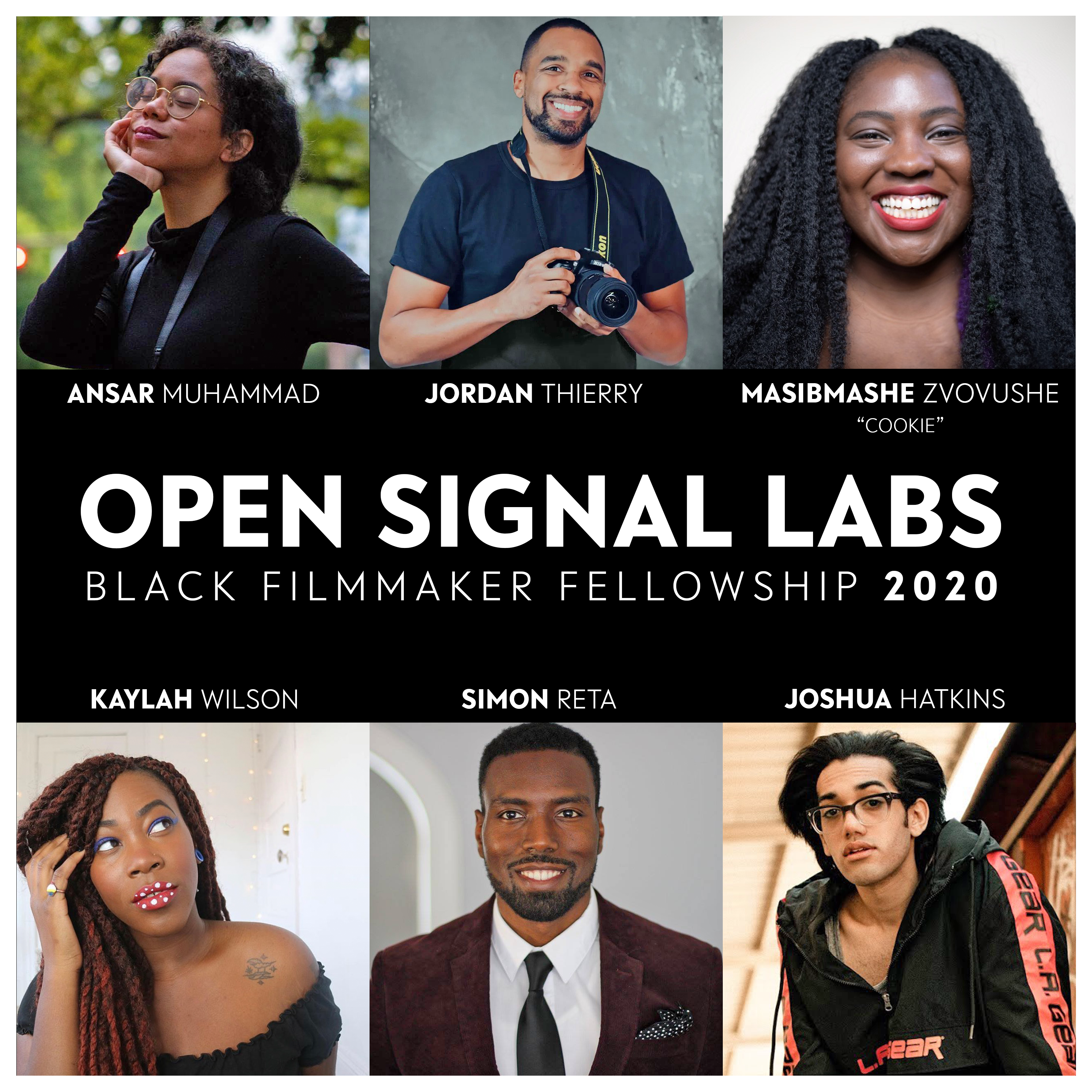 ** NOTE: As of summer 2023, Open Signal Labs is now LABS Media, an independent creative studio and production company.**
Fellowship for Black Filmmakers Begins Second Year in the Era of Social Distancing
Public Invited to a Virtual Launch Event Sunday, May 24

Open Signal Labs 2020 Virtual Launch Event
Featuring 2020 Labs Fellows and Network Television Producer Crystal Rose Holmes
Sunday, May 24, 2020, 11am PT
Register Here

PORTLAND, OR. - May 15, 2020 – Some bright news during uncertain times: Open Signal Labs announces its 2020 Black filmmaker fellowship cohort. In the midst of the State of Oregon's Stay Home, Stay Safe policy, Labs for now, digitally convenes six emerging artists based in Portland for this unique year-long program.
2020 Open Signal Labs Fellows are Ânsar El Muhammad, Joshua Hatkin, Simon Reta, Jordan Thierry, Kaylah Wilson and Masimbaashe "Cookie" Zvovushe. The fellowship program includes training, hands-on production experience, mentorship and connections to a greater network of Black creatives in Portland, access to professional filmmaking gear and a $2,000 stipend to create or complete a new film.
The public is invited to meet the fellows at a virtual panel held via Zoom on Sunday, May 24 at 11am PT, with special guest Crystal Rose Holmes, producer of Legion (FOX) and post-production supervisor of Black Lightning (CW) and Fargo (FX). The panelists will discuss working in the film and television industry, now and in the post-COVID era, followed by a brief opportunity for viewers to ask questions.
Open Signal Labs creates space specifically for Black mediamakers to create new film narratives that innovate artistically and technically, pushing the boundaries of what storytelling can look, feel and sound like. It is an initiative of Open Signal, a media arts center located on Northeast Martin Luther King, Jr. Boulevard in Portland.
The fellowship program was developed and piloted in 2018-19, under the leadership of Open Signal Labs' Executive Producer Ifanyi Bell, in response to the lack of visibility of the experiences of people of color in the Pacific Northwest, and the lack of Black writers and filmmakers behind the camera nationwide. The successful pilot engaged six fellows and culminated in a sold-out screening at the Hollywood Theater in June 2019.
The 2020 fellowship program officially began in person in February. The fellows are now taking on training and pre-production remotely. On-site production will resume when it is safe. Program staff anticipate that the fellows' completed new works, or works-in-progress, will be shared with the public in Spring 2021.
"In the pilot year of this program, I placed a lot of emphasis on learning how to run a program that is as special as this one," Ifanyi said. "This year with all that we've learned, I'm excited to transfer a lot of that focus into the creative space. I have been blown away by the ideas that the fellows have brought to the Lab and I look forward to working with them to bring their truly revolutionary ideas to audiences."
2020 Labs Fellow Joshua Hatkins added: "Having a career in film as a writer/director is a dream for me. While I have worked hard to take steps towards bringing that dream to fruition, establishing myself in Hollywood can still feel like climbing a near-impossible mountain at times. That is why I am very grateful for this opportunity....[it is] allowing me access to education and equipment I otherwise couldn't afford, connections I otherwise wouldn't be able to make, and a platform I otherwise might never be given."
The fellows' bios follow, as submitted by the fellows themselves:
Ânsar El Muhammad is a multimedia Portland-based artist. While her conceptual work ranges in medium, filmmaking is her passion. All of her work stems from a systemic understanding of the challenges and hurdles she and members of her community have had to face and overcome. Often her work acquires a solace tone and insight for her viewers, through the stories she tells, rather whimsical avenues for representation, or somber avenues for humanization and empathy. She strives to create platforms for folx that have been disenfranchised or ignored, through collaborations and building from the ground up.
Joshua Hatkins is an artist born and raised in Portland, Oregon. Aside from recording and releasing 2 mixtapes, he has also directed a cluster of music videos for local Portland artists as well as written and directed a short film called 'SUGAR'.
Simon Reta was born and raised in Portland, OR but has traveled and lived in several different cities including Atlanta, Houston, and Los Angeles. As the son of immigrants from Eritrea who risked it all to pursue the American dream, Simon is no stranger to cultural differences and diversity.

Simon enjoys making films both as a form of entertainment and a way to sharpen his skills in film production. He produces, directs, writes and edits short films. He has also worked on local feature film productions. He received his education at the University of Houston. Simon currently resides in Portland, where you can find him among family and friends when he is not working or watching films.
Jordan Thierry is the Founder and Creative Director of Dream Chase Media LLC, a multimedia production company that uses culture, creativity and community as inspirations for compelling storytelling. His first feature film, THE BLACK FATHERHOOD PROJECT received wide community acclaim for its breakdown on the history of the Black family. Jordan is a graduate of University of Oregon and Howard University, and has worked as an educator, philanthropic consultant, lobbyist, and independent filmmaker. He is a proud board member of the Los Angeles Black Worker Center.
Kaylah Wilson found her love of filmmaking in 1997 when she started accidentally recording videos of her dancing over family home movies. By the time she was 11, she had a container of VHS tapes, home to many fashion shows, concerts, talk shows and confessions. She loves music montages and fading to black, and draws inspiration from early reality television. Her work is all about good queer fun, the sun, self-improvement, and the devil's lettuce. She holds a BA in Arts Administration from the University of Kentucky and currently attends Portland Community College.
Masimbaashe "Cookie" Zvovushe aka Jagger Blaec is a writer and a journalist transplant from Connecticut. It is her life's mission to create representation and visibility for BIPOC femmes and women of color. She recently curated an exhibit called "An Altar to Alter" at the Portland Art Museum. Last November, she launched the sex-positive storytelling showcase for femmes of color called "Heaux Stories". She is working on a screenplay that will star a Black femme protagonist and hopes to turn it into a bingeable Netflix series someday.
Learn more about the fellowship and Open Signal Labs in this press release and video from the pilot year.
The 2020 program year of Open Signal Labs is significantly supported by the Meyer Memorial Trust, ninety-nine girlfriends, the Oregon Community Foundation's Creative Heights initiative, The Collins Foundation and the Mt. Hood Cable Regulatory Commission.
###
Contact
Rebecca Burrell, Director of Strategy
rebecca [at] opensignalpdx.org
(503) 288 - 1515 x201
← Return to index