How To Get Involved at Open Signal
September 08, 2022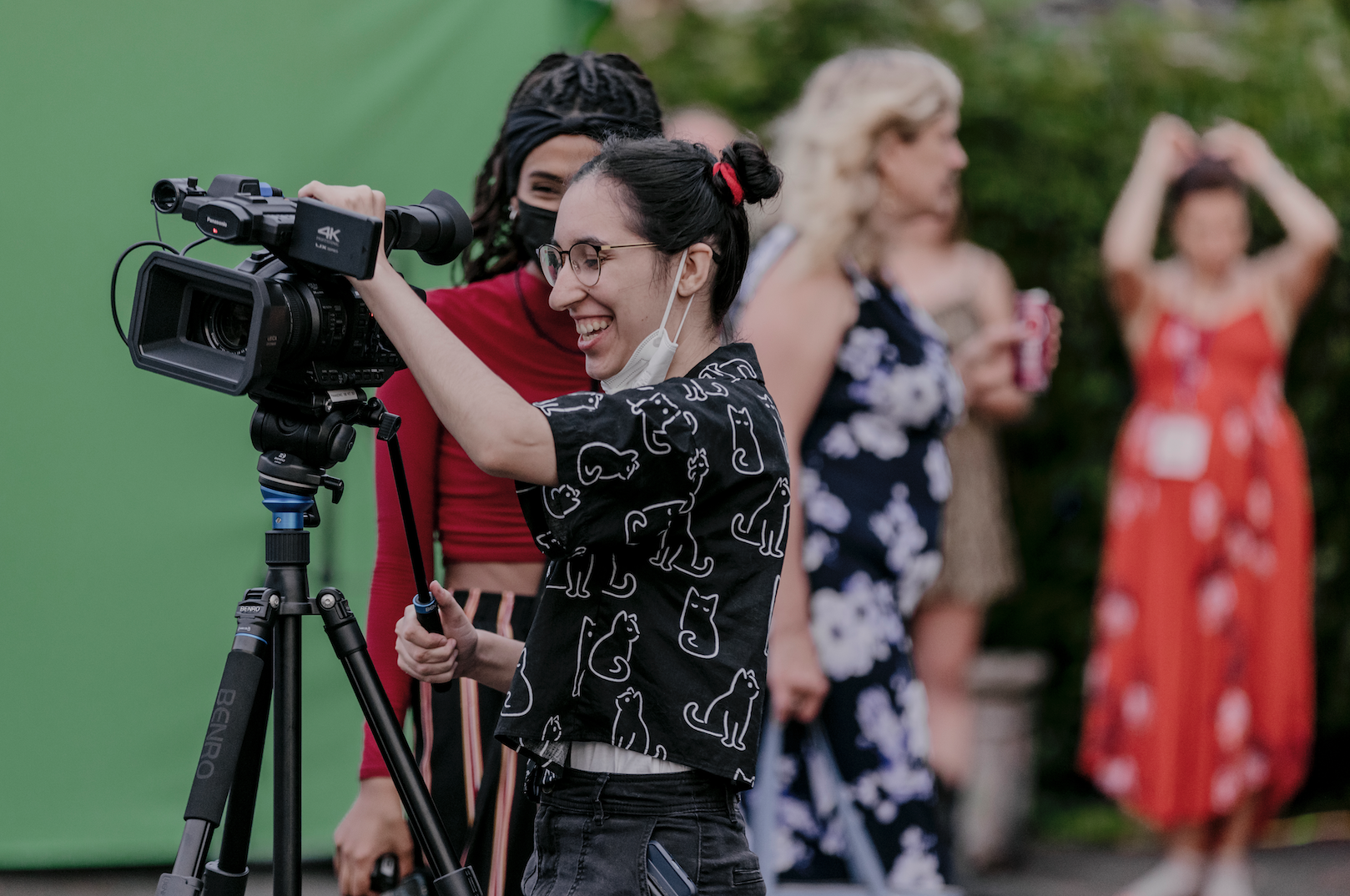 Are you a media maker who's interested in joining our community of creatives, activists and dreamers? We offer several paths to get involved, and are here to help you find the one that works best for you.
---
---
Membership (start here!)
Your journey at Open Signal starts here. Our membership program includes absolutely everyone! Membership deepens your experience as a community member and ensures that our resources are around to serve Portland for decades to come. Sign up at our front desk or online.
As a member you're invited to our monthly meetups, Signal Share, featuring a rotating theme. Bring your ideas, conversation and skills to the table. Learn more and find dates on our calendar.
Studio Volunteer Workshops
Learn television production skills and put them to work on an existing Open Signal cable series through our free Studio Volunteer workshops. Each workshop focuses on one aspect of our industry-standard HD sound stages and puts you on our studio crew volunteer list. Find upcoming workshops here.
Cable Broadcast
Whether you want a platform for your citizen journalism, art project or any other video work, we want to amplify your voice on our channels. Submit your content for broadcast as a regularly scheduled series (we open up series applications four times a year) or as a one-off program.
Learn more here. Questions? Contact distribution@opensignalpdx.org.
Studio Rentals
Rent Open Signal's facility for your next media production! Rentals include access to our 2,000-square foot soundstage and support from a Studio Productions Coordinator & Trainer. Learn more here.
Production Services
Hire our team to document your event for online or TV broadcast. Your dollars support our important nonprofit community services. Learn more here. For a quote on your project, please contact production@opensignalpdx.org.
---
The following paths are geared towards media makers from these communities that have been excluded in mainstream media: Black, Indigenous, and People of Color (BIPOC); English-language learners; people with disabilities; low-income; and/or nonprofit organizations.
---
Seasonal Production Cohorts
Twice a year we open up applications for folks to get dedicated production support on their projects. Work one-on-one with an Open Signal facilitator to see your story through to the final cut. Applications open in November and May. More info can be found here.
Test Outs
We offer test outs on our Panasonic AG-UX 180 kits to our cohort graduates, current series producers and new producers from our priority communities who want to make content for cable broadcast. Call the front desk at (503) 288-1515 to find out more.
Open Signal LABS
Open Signal LABS produces media specifically by and for Black media makers to share narratives that innovate, pushing the boundaries of what storytelling can look, feel and sound like. For more information, contact RaShaunda Brooks, Open Signal LABS Project Coordinator, at rashaunda@opensignalpdx.org.
Train the Trainer
Does your organization do great things and do you wish you could document it? Open Signal offers video production training for nonprofits interested in becoming media trainers so they can teach others in their community to use our easy "grab 'n go" equipment kits and editing software. Contact education@opensignalpdx.org for more information.
---
Want more information or help determining which path is best for you? Talk to the front desk by calling (503) 288-1515 or reach out to info@opensignalpdx.org.
← Return to index