An Update on Staffing and Programs
May 30, 2018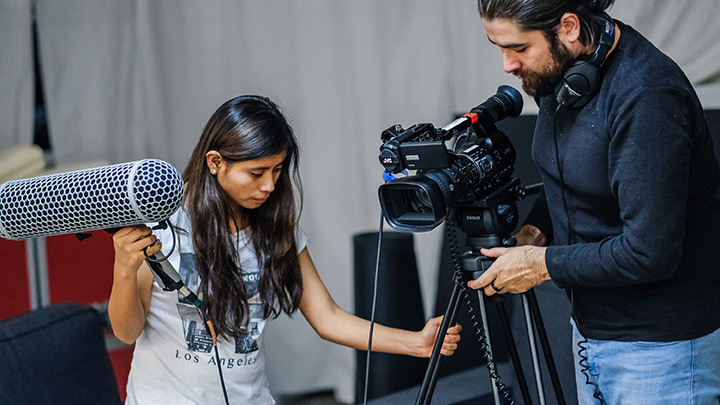 To the Open Signal Community,

Our organization has experienced explosive growth over the past two years, accomplishing things I never thought possible. We've made some bold decisions and taken strategic risks, and when added all up, our relevant new programming and increased revenue streams have put our organization in the strongest position it's seen in years.
This spring, in response to the threat of dramatic changes to our public funding, the Open Signal Board of Directors and I made some proactive budget cuts in staffing and services in an effort to reduce expenses and to strengthen our cash reserves, so we could weather whatever changes came our way.
Transparency is really important to me and to Open Signal, so I'm writing to provide you with a full update on how these cuts impact — and do not impact — the services we provide to the public.

Media Services Department

In April, we eliminated the full-time position of Media Services Technical Lead, who worked at our front desk and assisted the public with equipment check-out, studio reservations and other customer service needs. When we cut that position, we made the choice to fill the void with on-call staffing. Our equipment library, production studios and cable broadcast will all continue in full and are unaffected by this staffing change.
We have also returned to the (reduced) public hours that we observed for many years, until we increased our hours in January 2017. We are now again closed on Tuesdays and open beginning at 2pm on weekdays. The reduction in hours has allowed us not only to cut costs, but also to provide additional staffing — and therefore better customer service — during our peak hours on evenings and weekends.

Community Engagement Department

This spring, we eliminated two additional full-time positions, our Director of Community Engagement and Art + Social Impact Curator. These positions were both inherited by Open Signal from the Hollywood Theatre, and were initially funded by multi-year private grants that have ended their run.
These staff members led an important range of community and artistic programs. Below is a break-down of those programs and their current status at Open Signal.

Programs That Will Continue in Full
New Media Fellowship - This four-month residency program serves six digital media artists each year. The program will launch its second year next month, and we are excited to work with DB Amorin, a pilot New Media Fellow and Open Signal instructor, as an on-call administrator dedicated to this program. We will publicly introduce you to the the newly selected 2018-19 fellows next week.
New Media Classes for Adults - Evening classes in experimental and analog media techniques will continue to be an ongoing part of our class offerings. They are now featured in a New Media education track, which allows students to expand their skills during the course of each term.
Fresh Paint - This collaboration with the Regional Arts & Culture Council (RACC) offers an opportunity for artists of color, who are new to murals, to apply to paint temporary murals on our exterior wall, facing MLK Jr. Blvd. Our third mural is currently being painted by artist Rob Lewis and we have also renewed our agreement with RACC to continue the program through 2020, managed by our Programs Department.
Building Renovations and Sound Proofing - Nonprofit administrators wear a lot of hats! Our Community Engagement department managed space renovations and was in the process of soundproofing for our lobby. This work is now managed by our Administration Department.
Strategic Plan - The Community Engagement department was part of an interdepartmental team developing our five-year strategic plan. The plan is on course, and is managed by our Strategy & Development Department and myself. We will seek community input on that plan throughout the summer.
Immersive Media Lab - This program, which will address virtual reality and other real-time technology, is in an early incubation period and is moving forward under the umbrella of the Programs Department.
Programs That Are On-hold or Under Review

Night Lights - In 2015, RACC and Hollywood Theatre began Night Lights, a media-based outdoor public art projection series. This collaboration moved to Open Signal along with the Community Engagement team and myself in 2016. Last year, with funding from RACC, we added an artist-in-residence component housed at Open Signal. RACC will continue Night Lights but given our recent staffing changes, we are reassessing our role in that program.
Open Houses and Block Parties - For more than a year, staff have been actively assessing our long-term capacity to devote resources to large-scale community events. We are not hosting a block party this summer, but the long-term future of these events is still under discussion.

We will give you more information on the status of these programs as details get worked out.
Programs That Will Be Cut

A/V Party and TV Takeover - These experimental media programs, taking place in the evenings on a semi-monthly basis, completed their pilot run in Spring 2018 and will not continue into 2019.
Other Programs
Other artistic programming, including Future Forum, an alternative training program for adult artists; our long-term collaboration with students and teachers at Open School; our teen artist-in-residence program Echo AiR; and the dozens of media education classes for youth and adults that we offer each term have been managed by our Programs Department from the start and are unaffected by this staff transition.
Thanks to the support of a couple of local grants, we are also putting significant resources into the development of Open Signal Labs, a new incubator for Black filmmakers, which will launch this summer.

Upcoming Staff Changes
Open Signal is currently in the process of hiring two positions, a Production Manager and a Media Services Manager, both to replace positions that have been vacated in the past year.
In the coming months, we plan to hire a development administrator, who will replace a staff member who left the organization in winter of 2018 — a position that was intentionally left open to reduce costs and allow time for restructuring.
Please note that none of the above positions are new.
Soon, we will hire one new position, a part-time administrator for Open Signal Labs, which is paid for through grant funding that is restricted to this particular program.

What This Means

I want to be clear that these budget cuts are not a sign of a financial hardship at Open Signal, but are actually a proactive act that enables us to be intentional about our growth, and to ensure that we have the rainy day funds we need to handle whatever may come our way. We expect to enter our next fiscal year in July in a very strong space, with an anticipated surplus that will help us stay vital and accommodate the inevitable fluctuations in our budget.
We're in a good and a smart place, and our private fundraising goals are as important as ever. None of our public funding is ever certain and as budget season marches on, we now expect to take a $100,000 cut to our capital funding — which stems from cable franchise fees — in the 2018-19 fiscal year.
We need to continue the good work we've begun to radically diversify our funding streams, so that we can remain nimble as the economy shifts.
If you can, I invite you to become part of our membership program and join the nearly 100 individuals who have stepped up the past few weeks to support our sustainability and efforts for diversified revenue.
These budget cuts are also an opportunity for everyone in the organization to exhale and to evaluate our priorities while we develop our five-year strategic plan. Please stay tuned for more updates about our strategic plan and ways you can give input into the future of Open Signal.
Please don't hesitate to get in touch with me with any questions whatsoever.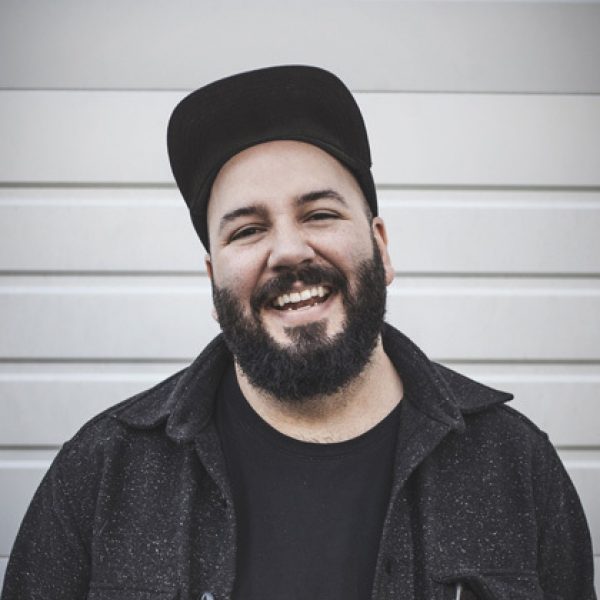 Justen Harn
Chief Executive Officer
justen [at] opensignalpdx.org
(503) 374-5598
Pronouns: he/him/his
I work with Open Signal board, staff and stakeholders to establish and advance the organization's strategic priorities. I ensure that all Open Signal programs and services are responsive, well-utilized and of the highest possible quality.
For over a decade, I have worked as a nonprofit arts administrator, educator, programmer and cultural engineer. As the Hollywood Theatre's Director of Programs and Community Engagement from 2007 to 2016, I helped transform a historic cinema on the brink of closing into one of the most celebrated arts and culture organizations in the Northwest. 
← Return to index